Giada de Laurentiis To Executive Produce New Cooking Channel Show, Tripping Out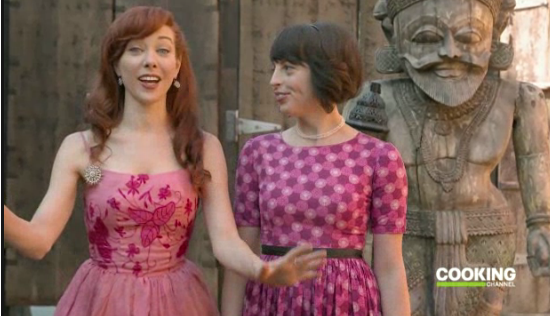 Giada de Laurentiis must be the busiest woman on earth. When she's not slinging cookbooks like so many plates of chicken tetrazzini, spicing up daytime TV with some Lannister-level sibling bickering, or, say, appearing in a Counting Crows video, she's off executive producing the Cooking Channel's next summer show.
Tripping Out with Alie & Georgia will premiere Friday, June 21, and spend the summer tracking Alie Ward and Georgia Hardstark as the Classy Ladies combine two things that should make for comedy gold: drinking and driving. Okay, that might be simplifying the show just a bit, but according to the network's announcement this morning, the real life BFFs will be traveling to interesting destinations across the country, and creating original cocktails based on their experiences along the way. Such experiences include mud baths in the California desert and synchronized swimming in Miami. While we can't imagine exactly what kind of sloppy sips come out of a synchronized swimming activity, we're willing to bet it will be replicated at sorority theme parties for summers to come.
The traveling two-some have already made a name for themselves in the drunk-on-tv sphere with a video for their signature McNuggetini that went viral (and is below, for fun), landing them a web series on CookingChannelTV.com, Drinks with Alie & Georgia. They also appear on the channel's Unique Sweets. Before making a career of public drunkenness (okay, we're jealous), Ward contributed to the Los Angeles Times' local broadcast station KTLA, and Hardstark (and her decidedly Restauros-sounding name) maintained a blog called Domestic Tuesdays.
Tripping Out will air on the Cooking Channel on Friday, June 21 at 9:30 EST.
Have a tip we should know? tips@mediaite.com