Tucci's Not Hosting Beard Awards; Does His Replacement Have Enough Food Cred?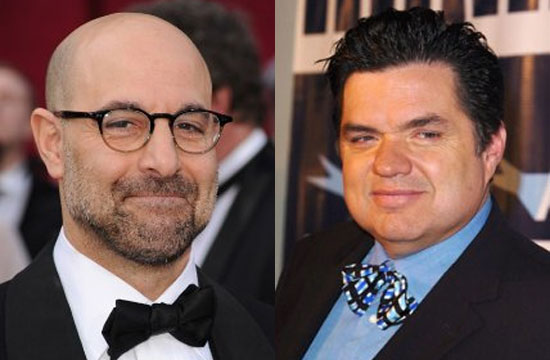 Turns out Stanley Tucci is not hosting the James Beard Awards this year, like he said he would. But never fear, he's got someone to host in his place: Oliver Platt.
A statement from James Beard Foundation president Susan Ungaro broke the news (to everyone who loved Julie and Julia ) that a "work commitment" forced Tucci to pull out of hosting the award ceremony, which is still taking place on May 6th at the Lincoln Center. Since Tucci is such a great guy, he got his friend Oliver Platt to fill in.
So, who is Oliver Platt, and does he have as much food-world cred as Mr. Tucci? We turn to IMDB for the low-down:
Platt is a seasoned film and TV veteran, with roles on The Big C, Nip/Tuck, The West Wing, and Bored To Death. Food quotient: 2. Nip/Tuck is about people who don't eat.
He served as an associate producer to Tucci's most food-porny movie, Big Night. Food quotient: 6, because he helped birth that movie (and Tucci's subsequent career) into the world.
His brother is New York Magazine restaurant critic Adam Platt. Food quotient: 9. Being Adam Platt's brother is like being the Pippa Middleton to the Duchess of Cambridge: not quite royalty, but close enough for everyone to obsess over your butt.
He and Tucci did this video together:
Food quotient: extremely high. Normal celebrities never get that involved in food banks.
So yes, we think that Platt will do a good job with his hosting duties — appropriate for a night paying tribute to the longstanding relationship between food and film ("Lights! Camera! Taste! Spotlight on Food & Film" isn't very suble of a title. As long as he can ensure that Brian Malarkey doesn't outshine him (or outglow him), we predict a very good night.
Have a tip we should know? tips@mediaite.com