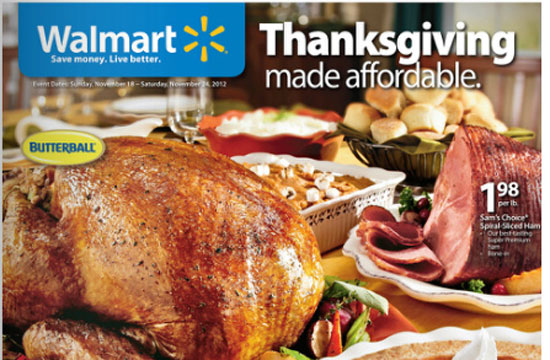 In a sign of boundless generosity and holiday spirit, a Cleveland, OH Wal-Mart is running an employee food drive, imploring its own workers to donate canned goods to other Wal-Mart employees who can't afford to make their own Thanksgiving dinner. Yes, this food drive is not for "the homeless," "the children," or even "the people who just want to build pyramids of canned goods" — it's for other Wal-Mart employees, many of whom make minimum wage ($7.95 in Ohio) and are mostly part-time. (And Wal-Mart is already supposed to sell affordable Thanksgivings, according to the ad above!)
Quoth the incredulous Cleveland Plain Dealer:
The storage containers are attractively displayed at the Walmart on Atlantic Boulevard in Canton. The bins are lined up in alternating colors of purple and orange. Some sit on tables covered with golden yellow tablecloths. Others peer out from under the tables.

This isn't a merchandise display. It's a food drive — not for the community, but for needy workers.

"Please Donate Food Items Here, so Associates in Need Can Enjoy Thanksgiving Dinner," read signs affixed to the tablecloths.

The food drive tables are tucked away in an employees-only area. They are another element in the backdrop of the public debate about salaries for cashiers, stock clerks and other low-wage positions at Walmart, as workers in Cincinnati and Dayton are scheduled to go on strike Monday.
While striking Wal-Mart employees cite this example as another sign that Wal-Mart severely underpays its employees to the point that they can't afford their own Thanksgiving dinner, the company claims that the food drive is proof that the company just really, really loves its employees:
Kory Lundberg, a Walmart spokesman, said the food drive is proof that employees care about each other.

"It is for associates who have had some hardships come up," he said. "Maybe their spouse lost a job.

"This is part of the company's culture to rally around associates and take care of them when they face extreme hardships," he said.
As a reminder, Costco is giving its employees Thanksgiving off, so everyone go shop at Costco.
RELATED:
Costco Will Close for Thanksgiving: Employees 'Deserve…to Spend Thanksgiving with Their Families'
WATCH: Joey Fatone Teams Up with Butterball Hotline's First Male Employees for Turkey Trivia
Mitt And Ann Romney Ate Boston Market Takeout For Thanksgiving
Have a tip we should know? tips@mediaite.com