WATCH: A Video About A Book About The Photos In Modernist Cuisine (Which Is Also A Book)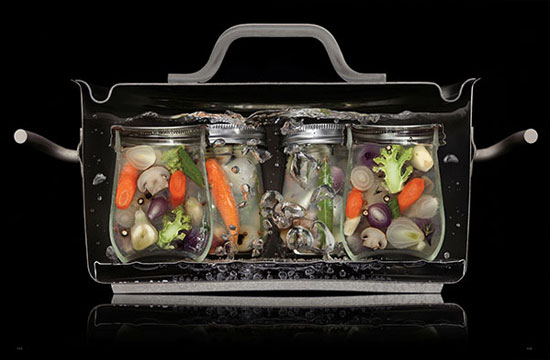 Although this might be the most meta cookbook ever conceived, we can certainly understand the demand for a book like The Photography Of Modernist Cuisine. With very little digital trickery, Nathan Myhrvold's team took readers inside ovens and grills, built floating burgers, blew up grapefruit segments, and captured noodles mid-wok throw.
Since everyone likes photographing their food, why not learn from the best — or, at least, the most technologically-endowed and inventive — food photographers in the business? Myrhvold's certainly ready to teach people how to do it:
?Nearly every review that came in cited our photography; even commenters who took issue with the Modernist approach or found the book too long or daunting praised the photos and illustrations. I think we owed that enthusiastic reception, in part, to the fact that our photography stood out as distinctive in a world crowded with food imagery. We created cutaway photos that offer dramatic views inside previously hidden realms of cooking. We stepped away from recent trends in food photography, which have long seemed to me to focus more on the ambiance than the actual food, and shot our dishes on black and white backgrounds that highlight the beauty inherent in the subjects. We also deployed a wide range of photographic techniques, such as compositing, microscopy, macro photography, and diffuse lighting, to create photos that are informative as well as visually interesting."
Here's a video trailer for the book to remind you exactly how stunning these photos are:
The Photography of Modernist Cuisine from Modernist Cuisine on Vimeo.
[Modernist Cuisine via Grub Street]
Follow Tina on Twitter @Tina_Nguyen.
Have a tip we should know? tips@mediaite.com