WATCH: Alex Atala Previews First English Cookbook In Sensual Brazilian Accent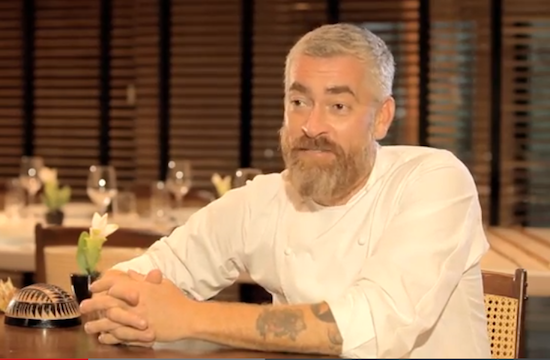 We can't help it. Ever since a particularly well-fated study abroad dorm assignment, we've had a thing for a man speaking Portuguese-inflected English. While we could easily spend the rest of the evening staring at the panoramic Amazon-river views in the video below, and listening to chef Alex Atala talk about his culinary background (forget the James Beard Awards!), there's work to be done.
In the trailer, Atala discusses the gastronimic links from his family's Brazilian heritage (swoon), to his vision at D.O.M. where he introduces Sao Paolo's culinary elite to the region's exquisite ingredients, and how the dots will be connected in Alex Atala: Discovering New Brazilian Ingredients, his cookbook due out in September.
Of the connection, he says, "even if someone said, 'oh Alex use[s] poison ingredients, or ants, or strange things,' I say, 'please, just come to D.O.M.' When people come to D.O.M., they must have a unique, deep, Brazilian experience." Well, we're sold. He aims to bring that experience to kitchens around the world with his next book, explaining that, "the main proposition of this cookbook is discovering Brazil through the ingredients, interpreted by a restaurant."
While we're making a few major life changes that allow for days spent exploring the Amazon in a riverboat with Alex Atala, take three minutes to remember why his restaurant is currently number six on the World's 50 Best Restaurants list, on which it has ranked for eight years running.
[h/t Eater]
Have a tip we should know? tips@mediaite.com