WATCH: Alton Brown Reminds You How to Safely Deep-Fry a Turkey, And Gives Other Tips to Survive Thanksgiving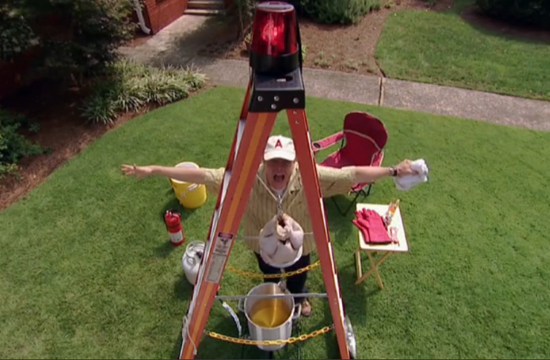 So you've officially hit panic mode on your Thanksgiving Day plans? No idea what the eff to actually do with a turkey? No idea how you'll get through the day without wanting to commit federal crimes? This is where Alton Brown, his soothing presence, and his no-fail Thanksgiving Day tricks and tips come in. (Or really, our motto: WWABOGED, or What Would Alton Brown on Good Eats Do?)
Although the Internet is where we usually find all of our fiery, explosive, destructive aftermath of deep-fried turkey disasters that come with Thanksgiving each year, we're big fans of positive thinking and planning ahead. (We really care that your face does not get burned.) With that, here's a throwback clip to the olden days of Good Eats, when Alton Brown MacGyvered a turkey-frying rig using household items. Do what he says, and no one will die.
Oh, what's that? You don't need Alton Brown to tell you what to do? You really should reassess that notion:
(For more details, Brown has a very thorough PDF here. If you're not the reading type, the full episode is available on Hulu.)
What else can we learn from Brown and Good Eats this Thanksgiving? Lots!
The true Thanksgiving survival secrets, according to Brown. First off — make those a**holes coming to your house bring something already! And also, bubble wrap is great.
Moving on, we have tips from Brown on prepping a turkey.
On carving a turkey.
Don't forget about the turkey gravy!
And one last thing: BRINE THAT THING. (Thanks, Serious Eats.)
(And because transporting a turkey is real hard too.)

More ABC US news | ABC World News
In short: let Alton Brown be your Thanksgiving guru this year, and all will be well.
Note: This story has been updated from 2013.
[Serious Eats, ABC]
RELATED:
LIST: How to Cover Your Ass If You Haven't Started Preparing Your Turkey Yet
Turkey Or Bust: Chefs Reveal Their Thanksgiving Dealbreakers
This is What a $35,000 Thanksgiving Dinner Looks Like
Have a tip we should know? tips@mediaite.com