WATCH: Anthony Bourdain Appears on CNN to Appeal for Jason Rezaian's Release
Bourdain Appears on CNN to Appeal for Jason Rezaian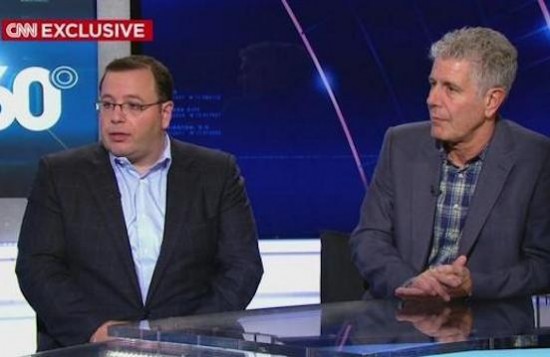 With all the attention Anthony Bourdain's Iran episode of Parts Unknown has received, it should be no surprise that the host has continued to speak out for his two hosts while filming, who were arrested after filming. While Yeganeh Salehi has been recently released from detainment, Washington Post journalist Jason Rezaian is still being held. His brother, Ali Rezaian, joined Bourdain on Anderson Cooper 360 to plead once again for his release.
During the show, Ali Rezaian revealed that Jason has been suffering health issues, particularly with his blood pressure, eyes, and back. He's been deteriorating, said Ali, while he's been in solitary confinement and has been struggling with depression. Ali also said the government has finally given reason for his charges, saying he was charged for "activity that breaches the state," or saying that he acted "outside the bounds of journalism." "That's not a legal thing," he said of the charges.
Bourdain said that he was "confused, horrified, of course, [and] worried" when he heard about the couple's arrest, and called them "two lovely, blameless people." He spoke of Jason's hope and passion for his country that rubbed off on Bourdain and the crew during the filming of Parts Unknown:
Why should americans care about looking at Iran? Should we be looking at context? History? Culture? Is there a bigger picture, is there a bigger Iran than we constantly see, that we only see on the news when bad things happen? And I think he was right in insisting yes, this is a glorious and ancient empire, and however you may feel the long ago past or the recent past, it's a place worth looking at, and trying to appreciate.
He also talked a bit more about the reactions he found after the airing of the Parts Unknown episode (well, the positive reactions, anyways):
A lot of that reaction was shock; 'I never thought about Itan in any other way than one way.' It was eye-opening, confusing, inspiring, but there was a positive reaction with the sort of emotions that one would assume you'd be happy about. [There was] the notion that maybe they aren't the axis of all evil, … and Jason was largely responsible with that.
Check out the full clip below.
[CNN]
RELATED: Bourdain Comes Back to the Iran Haters: 'Guess We Shouldn't Show People … Anywhere We Find the Policies Repugnant?'
Here's the Sneak Peek of the Much Talked-About Iran Episode of Parts Unknown
WATCH: Anthony Bourdain Talks Meaning of Foodies in Shanghai Season Premiere of Parts Unknown
Have a tip we should know? tips@mediaite.com