WATCH: Chef Smashes Expensive Wine in Protest after Supplier's Racism Goes Viral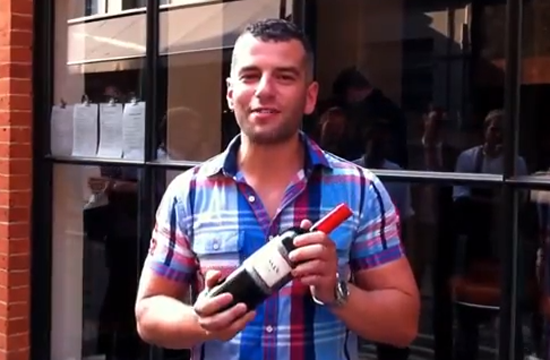 We love it when chefs stand up against racism, especially when they do it in a dramatic, chef-like way, and so we'd like to bring your attention to Jacob Kennedy, a London chef who has a few words for his racist Italian wine supplier.
Some backstory: in April, the Italian government appointed its first black minister, Cecile Kyenge, to be Minister of Integration. This did not go over well with Italians, who immediately began throwing bananas at her in public, calling her an orangutan, dumping blood-stained mannequins outside her office — you get the idea. (Incidentally, this is the first time Paula Deen's looked like a member of the NAACP.)
The popular dislike of Kyenge apparently prompted independent winemaker Fulvio Bressan to share his own racist feelings on Facebook: according to the Evening Standard, in August he called Kyenge, among other things, a "sporca scimmia nera" — a dirty black monkey — and the posts went viral. He attempted to delete his posts, but to no avail.
Enter Kennedy, one of the many chefs considering a boycott of Bressan's wine. Recently, Kennedy stood outside his popular London restaurant Bocca di Lupo with a few bottles of wine and said this to Bressan: "Fulvio Bressan, not only are you a racist, you are also a spineless one who tried to eat your words to save your ass."
He then proceeded to Hulk Racism Smash all over the place.
Critics like Marina O'Loughlin and Jay Rayner applauded his actions, the first time anyone (including ourselves) has been pleased to see someone smash many expensive bottles of pinot nero. It's okay when it's for racism-fighting.
RELATED:
WATCH: Paula Deen Judges MasterChef on the 50th Anniversary of MLK's 'I Have a Dream'
Dunkin' Donuts HQ Apologizes For Thai Blackface Ad
WATCH: Oprah Speaks Out On Paula Deen, 'She Was Used As A Symbol'
Have a tip we should know? tips@mediaite.com