WATCH: David Chang Grouses About The Youth Along With Mythbusters' Adam Savage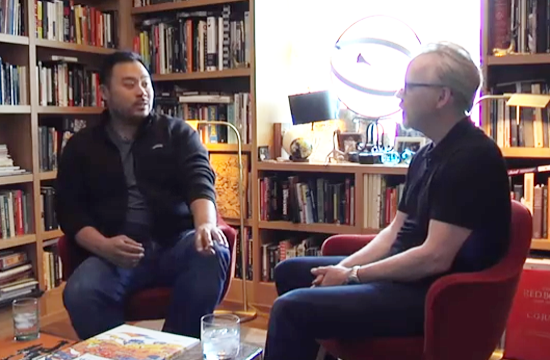 Whassa matter with kids these days? If only we knew, but Adam Savage of Mythbusters attempts to figure it out on his latest web series, The Talking Room, with his first guest: David Chang, King of the Lucky Peaches.
The entire conversation is one of those beautifully in-depth chats you wish you could have (in one of those libraries you wish you could own), but notably, Chang reveals a fact that many restaurant chefs are too aware of: despite the record numbers of students graduating from culinary school, there aren't enough good line cooks — with the right skills and the right attitude — to staff restaurants.
"I think there's a dearth of talent across the board," he revealed to Savage. "All I know is that all of my friends could use one or two more cooks…I don't know if it's because of the Millenial Generation's coming, and they're all 18 or 19 years old. I literally had a kid come up to me last week, and I sort of dressed him down. I'm trying not to lose my temper…I didn't even yell at him. And he's like, 'Dude!' — first he calls me 'dude!' — he's like, 'Do you know what decade it is, man? It's 2013. You can't talk to people like that.'
"Needless to say, he's moving on," Chang added, saying that when he and his age cohort were that young, "we felt lucky to be part of a kitchen. We felt, every day, like Chef's gonna fire us and replace us. Now, today's cook feels like the restaurant's lucky to have them."
Watch the entire conversation below.
[h/t Eater]
Have a tip we should know? tips@mediaite.com