WATCH: Gordon Ramsay Hopes Former Hell's Kitchen Winner Will Sort Out Her Drug Issues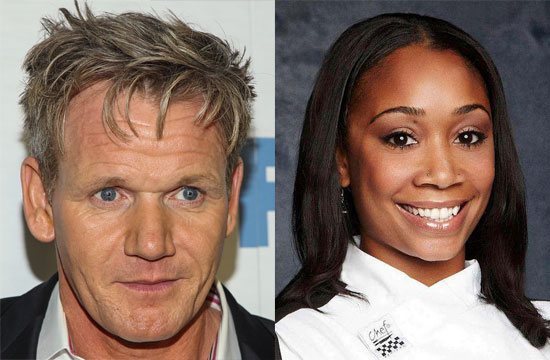 TMZ caught up with Gordon Ramsay to ask about his troubled employee and Hell's Kitchen Season 11 winner Ja'Nel Witt, who recently was prevented from claiming her prize due to a positive drug test, because the only thing TMZ cares about in this world is endlessly reporting on people dealing with drug problems and mental issues.
And when we say "caught up with Gordon Ramsay," we mean "accosted the dude at an airport and made the awkward video seen below."
But Gordon was actually warm and gracious about the entire ordeal — both in terms of Witt's drug problems and of TMZ shoving their weird cameras in his face. "She's a talented chef," he told them. "I hope she sorts out her personal issues and my door's always open."
Ja'Nel Witt was supposed to take the job as head chef of the Gordon Ramsay Pub & Grill at Caesar's Palace in Las Vegas, but was forced to step down after she tested positive for cocaine. TMZ (which broke that story too, big surprise) noted that Caesar's Palace has a strict anti-drug policy. However, she will keep her salary, which is nice, we guess.
RELATED:
WATCH: And The Winner Of Hell's Kitchen Season 11 Is…
Gordon Ramsay Helped Turn British Criminal's Life Around
Josh Marks Faces Up To 14 Years In Prison, TMZ Digs Up His Criminal Record
Have a tip we should know? tips@mediaite.com