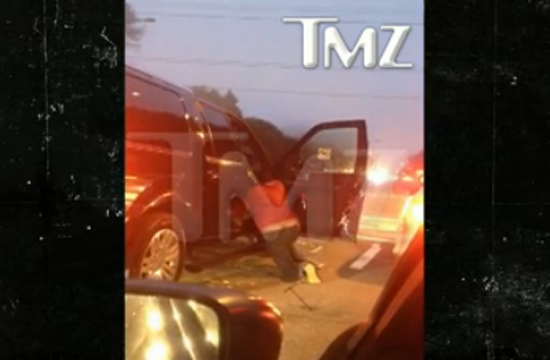 Guys. Guy Fieri got into a fistfight and kicked a man through the door of a moving SUV. This is not a drill. This is real. There is a video. THIS IS REAL.
According to TMZ, which obtained the exclusive video, Fieri and his hairdresser (yes, hairdresser) Ariel Ramirez were driving out of the San Francisco International Airport this past Sunday, after supposedly throwing back a few on the plane. No one's sure what caused the fight, but it escalated to the point where Ramirez punched Fieri through the open window of the car, sobbing and swearing profusely, and fielding a few kicks from Fieri who was kicking Ramirez's face through the window.
But it was totally nothing, folks; just some normal drunk dudes throwing each other out of cars:
As for how the argument happened … we're told it was about nothing.  One source said, "It was just dudes being dudes."  It escalated into a physical fight.

A rep for Guy tells TMZ, "A bunch of guys were messing around.  Things got a little out of hand, but they're all good now."
Right. Because throwing people out of moving vehicles is all in good fun. Watch the fraternal love below and tell us how these two men epitomize brotherhood.
RELATED:
Last Call: This Courtroom Sketch of Guy Fieri's Stolen Lambo Trial Is Everything
WATCH: Guy Fieri Becomes Rolaids Spokesperson
Guy Fieri Taking His Donkey Sauce To Las Vegas
Have a tip we should know? tips@mediaite.com