WATCH: Harvard Releases Trailer for Famed Science and Cooking Lecture Series, We So Regret Not Going to Harvard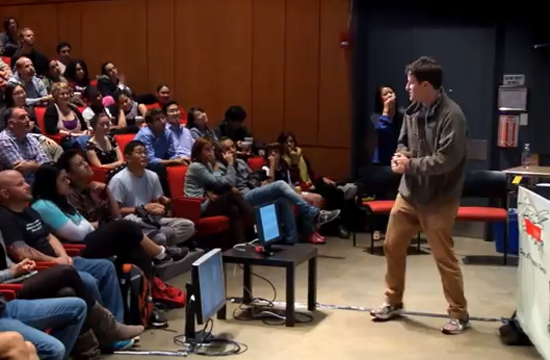 It's almost the beginning of the academic year, which means that Harvard University will soon begin streaming its coolest annual class, the Science & Cooking Lecture Series, where they bring in crazy talented chefs and scientists from around the world to talk about, well, the science of cooking. (How crazy talented? Try David Chang, Jose Andres, Dave Arnold, and the guy who began the series, Ferran Adria. Yeah, they're that good.)
What? No, we're not jealous that it's only available at Harvard, why would you say that AHAHAHA.
Anyway, the class is so cool that the professors put together this trailer to woo students into the course, though it's not like a class that combines "free food" + "science credit" + "graduating from Harvard" would be unpopular at all. Judging from the comments for the video, though, students need to apply for permission to take the course, and some of those Harvard students might actually feel the crushing sting of rejection for the first time, ever. YEAH OKAY WE GOT REJECTED FROM HARVARD AND WE ARE TOTALLY OVER IT BECAUSE WE ARE #noregrets #yolo #sorryasianmom
(UPDATE: The Kohl's-wearing plebes of the world can actually take the course itself online, according to a Harvard spokesperson, by signing up through the HarvardX Program, which starts registration in October. More details on that as they emerge.)
Our own personal failures aside, get excited with the video below — and they'll stream the lectures online, so contrary to our faux-whining, we're really looking forward to it. Science rules!
RELATED:
WATCH: Ferran Adria Shows Off El Bullipedia At Harvard
WATCH: David Chang Pulls An Oprah On Unsuspecting Harvard Students
WATCH: Jose Andres Spreads Joy And Happiness At Harvard
Have a tip we should know? tips@mediaite.com