WATCH: Flash Mob Serenades Rick Bayless for 60th Birthday with Infectiously Happy Hair Medley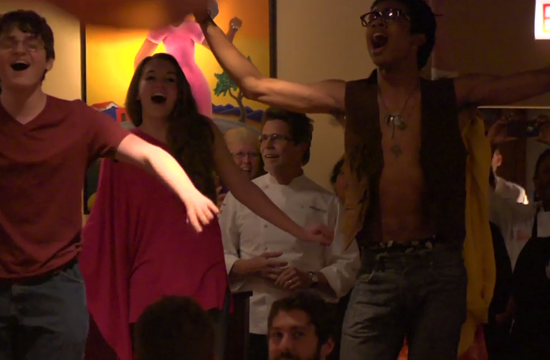 This weekend, Chicago chef Rick Bayless turned 60 (which legitimately shocked us, because, really? 60? He does not look 60, what kind of Aztec shaman ingredients does he eat to look that young? Please tell us).
To celebrate, a flash mob took over Frontera Grill in one of the cooler birthday celebrations we've seen so far: a well-executed medley of Age of Aquarius, the Nina Simone classic Ain't Got No/I Got Life, and Let The Sunshine In. (Is Bayless a fan of the musical Hair? Because boy can he belt.)
The flash mob was filmed by Scott Dummler, Bayless's director on Mexico: One Plate at a Time, and Bayless had no idea this was coming.
"This restaurant has been filled with beautiful sounds for a long time, but this was the most beautiful sound I have ever heard," a giddy Bayless told the crowd afterwards. "I have no idea how that just happened. I can't even imagine that it could happen, that it should happen, that anyone would ever dream it up, but I am the happiest I have ever been in my life."
Oh god, this is such infectious happiness. Even we feel joyous and content by watching this. Hell, this is better than coffee. We're watching this three times through. Screw you, coffee!
Frontera Flash Mob from The Mint on Vimeo.
[h/t @rick_bayless]
RELATED:
Last Call: All 2 Chainz Wants 4 His Birthday Iz Some Gold Covered Yamz
Happy 43rd Birthday, Giada De Laurentiis!
Happy Birthday, Martha Stewart! We Refuse To Believe You Just Turned 72
Have a tip we should know? tips@mediaite.com