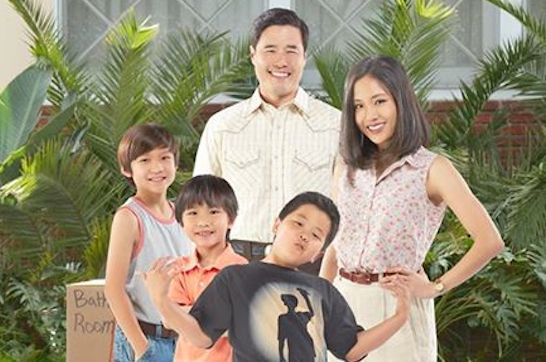 It includes references to Notorious BIG, "white people lunch" as quoted by a teeny and adorable Eddie Huang, the American Dream, and Taiwanese shopping markets — oooh yeah, we're in.
The previews have dropped for Fresh Off the Boat, now premiering on Wednesday, February 4. (Hey, having a Modern Family sandwich may do very well for the show.) It'll then move to Tuesday nights in the in the 8 p.m. slot. A few more details, from the press release:
It's 1995 and 11-year-old hip-hop loving Eddie Huang (Hudson Yang) has just moved with his family from Chinatown in Washington D.C. to suburban Orlando. They quickly discover things are very different there. Orlando doesn't even have a Chinatown — unless you count the Huang house. Eddie's dad, Louis (Randall Park), has dragged the family to the 'burbs to pursue his version of the American dream, opening Cattleman's Ranch Steakhouse, a struggling western-themed restaurant. Louis thinks that the best way to get customers in the door is to hire a white host to greet them and make them feel comfortable. Eddie's mom, Jessica (Constance Wu), has agreed to the move, but she finds Orlando a strange place — from the rollerblading stay-at-home moms, to the hospital-like grocery stores, to the fact that the humidity has ruined her hair.
We know that the baby Eddie Huang, dressed to the nines and narrating the show, will be what makes the show for us. Check out the clip of the new show below.
[ABC, ABC MediaNet]
Have a tip we should know? tips@mediaite.com