WATCH: The Most Adorable (and Terrifying, And Cruel) Moments of the Season 3 Premiere of MasterChef Junior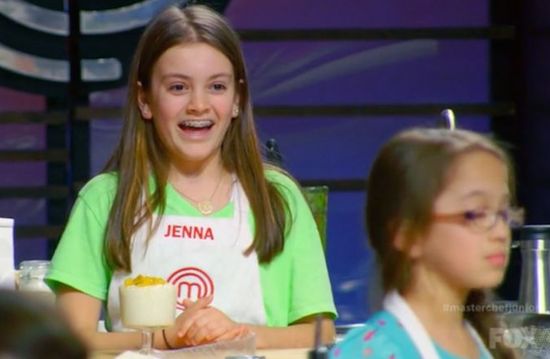 Let's be super clear here: MasterChef Junior, season 2, ended just weeks ago. But somehow, the execs at FOX deities of 2015 gave us a brand spankin' new season of MasterChef Junior to ring in the new year. And this season gives us our very first injury, which makes this the most harrowing season premiere of MasterChef Junior yet.
To the incident at hand, so we can move on to the cuteness: it was contestant Kayla, age 11, who managed to slice two fingers during the first Mystery Box challenge. Reports TVPage, two on-set medics quickly attended to her hand while Gordon Ramsay tried to make light of the bloody mess at hand:
"How did you manage to cut two fingers at once?" chef Gordon Ramsay asked her, attempting to lighten the mood.

"That is a record here at MasterChef. Congratulations. High five!"
So there you have it. Frankly, we can't believe it took three seasons to get a little bloodshed on MasterChef Junior (we can barely slice a lemon without fear of losing a finger), but props to Kayla for shrugging it off.
Still, as the New York Times notes in its review, this season premiere was … bumpy. Is there cuteness abound? Oh, sure. We're used to seeing kids cheer each other on when they win, and console each other when they're eliminated. We have some adorable statements. But at the same time … is something missing? From the New York Times:
Yes, there is a chard-wrapped salmon with an "avocado mascarpone smear on the bottom," cooked by Jack in the premiere, but the current edition lacks some of last season's standout archetypes: an obvious culinary obsessive (like Samuel, the runner-up), or a whip-smart firecracker (Oona), or a cartoon character (Abby). There is an abundance of cute, of course — Riley, at 8 the youngest contestant, can barely reach the countertop — but last year's balance of personality and talent isn't duplicated here.

This tests the show's judges — the chefs Gordon Ramsay and Graham Elliot, and the restaurateur Joe Bastianich — in a different way. Their awkward farewell hugs remain, but they appear to be straining harder not to be negative.
Uh, yes. Who will be our Dara? Or Oona?! Time will tell.
So what were the adorable moments and anecdotes of the premiere of season 3, MasterChef Junior?
1. AJ, age 10, relaying to viewers that "my mother says I was born with lasagna in my hands." WHAT. We so want to say the same thing about our own kids someday.
2. Alexis says she wants to use the $100,000 prize to go to college in "Hawaii or Disneyland." Sign us up.
3. Who is this adorable Questlove lookalike, Cory? Why must he throw down a chocolate egg in the best way possible? If we could be friends with this kid in real life, we totes would.
4. The youngest of the contestants, Riley, can't even be seen over the Mystery Box challenge. We could probably not even be able to lift that Mystery Box, therefore we are already akin to Riley's challenges in the competition already.
5. This whole exchange with Riley.
6. Jenna, age 12, tells Bastianich that she wants to be the next Pete Wells. Scratch that — she wants to "take his job someday." Ya burned, Pete Wells!
7. We always like seeing Ramsay in Dad mode, and he does extraordinarily well when Kayla cuts herself. Warms our heart a little.
8. Jenna's giggle when Ramsay tells her "OMFG!" over her dessert. "The F stands for food, come on!" Ramsay says. "Well, you have a track record," Jenna retorts (and Joe Bastianich giggles in the absolute best way possible). Touche, Jenna!
9. Kayla, Adam, and Jenna's responses when they found out they've all won the first competition of MasterChef Junior. Remember what it felt like to be genuinely happy for people succeeding? That's a nice feeling.
10. Ryan Kate, while making fresh pappardelle, schooling Bastianich in how folding extra-thin pasta will help "break up the gluten." Bastianich rightfully asks if she's a food scientist, we definitely believe that she is. Excellent to see Bastianich flustered holding pasta over his head.
11. Parker in his flustered state over his burned sausage. (We swear, we didn't mean for it to sound that way.) His whole mannerism does lend to a certain goofy Muppet flopping around — not that we want to mock a child who's clearly freaking the eff out.
12. Every stinking thing about Riley's presentation of his pappardelle. Is Riley our new favorite? Probably.
13. Uh …. we blank for awhile because somehow, the judges have upped the criticism of the first dishes. Like, a lot. Making Philly spell out "SALT" seems a little harsh, Ramsay! So, we are holding out for some sort of cuteness towards the end here.
14. And the premiere peters off with the contestants going home, in tears but grateful for the opportunity. Please, really, who will be our Oona of who's left? Has MasterChef Junior jumped the shark already? What will happen when Bastianich leaves?! Too much for us.
[TV Page, New York Times, Hulu]
Have a tip we should know? tips@mediaite.com