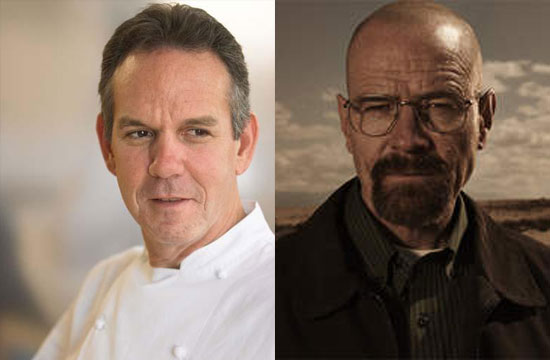 Much like our sister site Mediaite freaked out when Andrew Ross Sorkin and Charlie Rose were name-dropped in last week's episode of Breaking Bad, so too did we freak out when we heard two characters discuss Thomas Keller's restaurants in the legendary television show's finale.
We're going to assume that readers from here on out are Breaking Bad fanatics, so spoilers ahead:
After returning to Albuquerque to exact revenge on a host of neo-Nazis, meth kingpin Walter White sneaks into the house of his former associates Gretchen and Elliot Schwartz, the billionaire founders of Gray Matter Technologies. (There was an entire thing where Walter sold his shares of the company before it went big, leading him to lifelong bitterness and the desire to raise an empire from the dirt. The empire happened to be meth-based.)
Gretchen and Elliot, being the type of jet-setters to appear on Charlie Rose, also have strong opinions about restaurants, name-dropping the Prohibition speakeasy 21 Club and, of course, Thomas Keller:
Elliot: If I want pizza, I go to a pizza place. If I want Thai, I go — I go to a Thai place. I mean, what is the — what is the earthly point in comparing pizza to Thai food?

Gretchen: Did I marry you? What has happened to your intelligence?

Elliot: This is different. they're completely —

Gretchen: Oh, come on, are you the man I married?

Elliot: I am the guy who wants to end this ridiculous conversation, kick off my shoes, and have a very large glass of wine.

Gretchen: Well, I'm gonna tell you to be my guest. All right, wait. The answer is 21.

Elliot: No.

Gretchen: Yes. Yes, because it has history. Come on. Prohibition. "The Sweet Smell of Success."

Elliot: And Per Se has Thomas Keller. Game, set, match.

Gretchen: Hey, The French Laundry is so Yountville. If you transplant it to Manhattan, it starts to feel —

Elliot: — you could transplant it to Islamabad, I would still eat there.

Gretchen: That's a good thought.

Elliot: What, Islamabad?

Gretchen : No, Napa. We have to go to Napa.

Elliot: Oh, my god, all this talk of food.
Apparently, Gretchen is anti-Per Se, but it doesn't matter: watch how quickly the scene turns from a normal food-obsessive discussion into sheer terror, because it's Breaking Bad. 
(Also: will Thomas Keller ever serve Los Pollos Hermanos at Ad Hoc?)
RELATED:
WATCH: Bourdain's New Mexico Episode Airs at the Same Time as Breaking Bad Finale
WATCH: Thomas 'The Pope' Keller Makes a Cameo on Eat, Drink, Love
WATCH: Andrew Zimmern Was Once Fired By Thomas Keller
Have a tip we should know? tips@mediaite.com