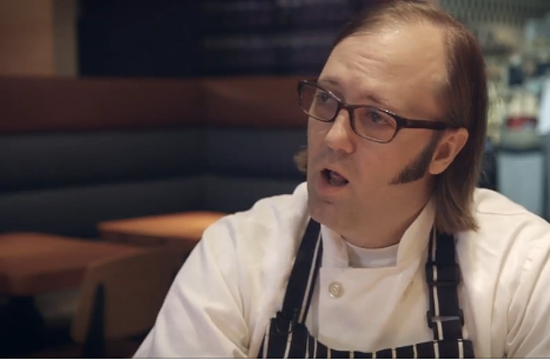 In a video interview with The Verge, Wylie Dufresne took the tech site on a tour of his Science Kitchen of Science at wd-50, but admitted that he — the man who popularized the application of food science to cooking — drew the line somewhere. That somewhere: the lab-grown hamburger.
Joining a small but growing number of chefs alarmed at the prospect of lab-grown meat, Dufresne admitted that he thought a burger grown in a Petri dish was "kind of creepy." Though he's happily embraced many aspects of food science in his restaurant, the concept of "disconnecting" the meat from the animal gave him the heebie-jeebies:
I think there might be some value in the technology of growing an animal that way — I don't know what it is, but I can imagine that we'd benefit from that "cloning," sort of. I'm not really interested in a burger that was grown in a lab. that's not compelling to me. I like the idea of the cow, and the lifestyle it goes through, and how it lives on in the way you eat it. Once that animal is slaughtered, it still lives on in a way, in that you try to honor its various parts and cook them in responsible ways, and serve delicious food. I think at that point, you honor the animal, the beast.

I think it's a little disconnected, and certainly kind of creepy that your food can just be grown in a Petri dish. I mean, I think there may be value in creating food for people who may be hungry or impoverished, but I don't know. I may just be speculating. I'm not looking to have our meat be supplied by a lab.
Other science, though, is cool. Look at all the other science below:
RELATED:
Wired's Food Issue Goes To the Future with David Chang, Alton Brown, Faux Chicken
WATCH: Curtis Stone Not Happy About Lab-Grown Hamburger, Calls Research 'Misguided'
Google Co-Founder Sergey Brin: I Funded The Lab-Grown Hamburger
Have a tip we should know? tips@mediaite.com