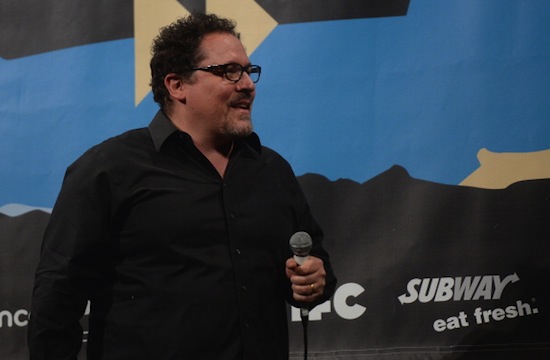 In short: if you like food porn, watch Chef!
The reviews are in from last night's premiere of actor/director Jon Favreau's Chef, and they're not all bad. But it's definitely agreed that foodies will love it, and everyone else will hate it.
Turns out, when you tell watchers that "shoot food the way Michael Bay shoots women in bikinis" (apparently a real quote from Favreau at the premiere), that will in fact be the only redeeming quality in the movie.
From Indiewire:
To borrow one of the many lame metaphors it employs, Chef feels horribly undercooked. But if you want to see a self indulgent, hubris-driven car crash where the filmmaker uses his latest narrative as a thinly-veiled defense of his past career transgression, this is the movie for you. A phony and hokey return to origins, it's unclear what's worse: Favreau delivering a repast less substantive than the tone-deaf Happy Meals he's been making for the past decade, or his genuine misguided belief that he's prepared an authentic home-cooked meal.
From Hollywood Reporter:
The story, revolving around food but really concerned with any sort of personal creative drive, may lack the ingredients of a mainstream comic hit; but audiences drawn in by its franchise-worthy cast will likely respond warmly… If the final scenes dispel with any lingering bad vibes in a much too-tidy way, viewers drunk on food-porn shots of melting cheese and frying beignets are unlikely to complain.
From Crave Online:
One gets the impression in Chef that the director loves these characters and sympathizes with the motivations behind even their most egregious mistakes… by keeping his story compact and tender he effectively implies that we are all living in a compassionate and fundamentally understandable world. That may be a comforting lie but if nothing else Chef is a comfort food: not terribly filling but delicious all the same.
From Variety:
Foodies … may flock to Chef, a lightweight but high-calorie confection in which the actors often run the risk of being upstaged by all manner of scrumptious-looking cuisine. … this amiably rambling dramedy will play best with audiences primed to go with the flow of its leisurely pacing while enjoying the cross-country ride. And, of course, savoring the views of that tempting grub.
So if you consider yourself to be a foodie asshole, you'll love Chef! And Roy Choi did his job. At least the Franklin barbecue pre-premiere sounded yummy.
[Variety]
RELATED:
Jon Favreau: Roy Choi Was 'My Sensei' on Chef
Tonight in Food TV: Top Chef Therapy with Oysters and Jon Favreau
Jon Favreau's Chef Movie Will Premiere at SXSW; Your Move, Bradley Cooper
Have a tip we should know? [email protected]