When Anthony Met Ottavia: Mrs. Bourdain Spills On How They Married After 'A Few Dates'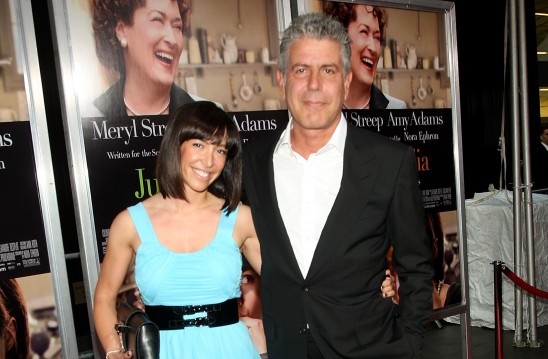 If you've ever seen Anthony and Ottavia Bourdain together, you know that the two are deeply in wuv. The twuest of wuv. He travels around the world and swears for a living, all while eating food and shooting things. She, according to the Big Gay Ice Cream Truck's Doug Quint, is an MMA-loving spaz who likes to punch things. They both eat massive quantities of animals for funsies. Of course this couple is made for each other.
In her first interview with the New York Times, though, Ottavia describes exactly how "made for each other" the couple really is: after Eric Ripert introduced the two (she was the general manager for a restaurant he was consulting at the time), they went on a few dates. "Their first date was to a cigar bar; their second was to Masa," the Times dutifully chronicled. "A few dates later, they had matching tattoos (of a chef's knife) put on their shoulders. And after a few more dates, they married."
Thought one: Matching tattoos after a few dates? And then a wedding?! Our mothers would not approve of us marrying tall weirdoes with television shows after only a few dates. (We have the feeling that Ottavia's mom didn't, either: "I had a very nice Italian life," Ottavia admits. "I grew up in a small town in Lombardy. I was studying to be a dentist.")
Thought two: Then again, the entire courtship makes sense, because come on: both of them are, by definition, professional ass-kickers, both lack filters, and they now have a child after seven years of marriage. And if Ripert approves —  "It was what we call in French a coup de foudre, [love at first sight]" our new favorite yenta said — then we have absolutely no qualms about a process that could normally be categorized under Potentially Bad Life Decisions.
Thought three: Do they watch My Little Pony together?
[NYT]
Have a tip we should know? [email protected]