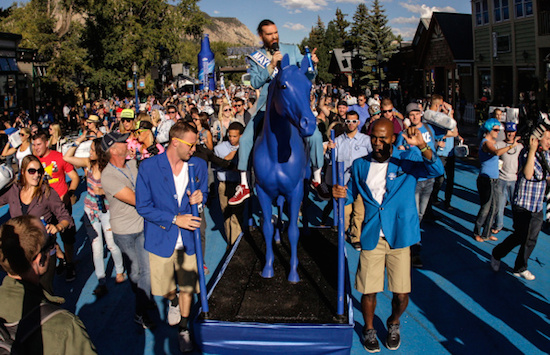 Sometimes, while we browse the web and get a feel of what the day's stories are, we feel a certain lightheadedness. Disdain. Disbelief. And it's usually when we get a whiff of the latest marketing campaign, spun as a cool new hip thing, to cross our paths.
We've gotten used to the all-meat commercial from Arby's, the biscuit tacos from Taco Bell, whatever. But really honestly, we just can't with some of the promotions we keep seeing today. Some of them are harmless, others are more damning not just to the brands, but to the consumers that they supposedly serve. In order from least damning to WTF, the marketing ploys we pray to God just slowly, slowly fade into the forgotten past.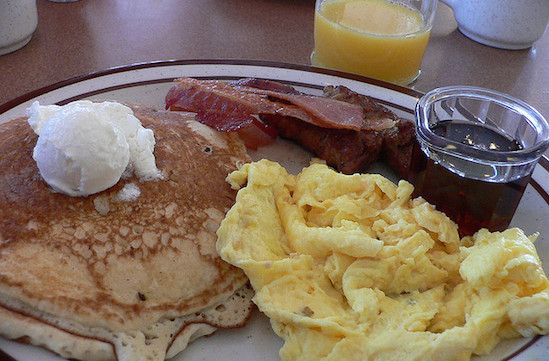 Denny's $300 "Grand Cru Slam"
Actually, it's pretty ingenuous. Mostly because it got us thinking about Denny's for the first time since some drunken pancakes in college. But still, don't do it. (David Letterman feels us.)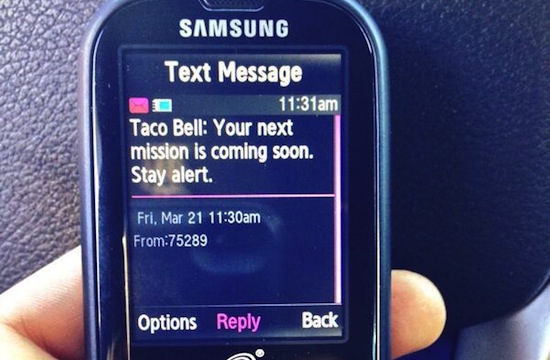 Taco Bell's "Breakfast Phone"
How ironic to use burner phones to promote waffles in tacos, amirite?
WHOA: Arby's now offering a $10 "Meat Mountain". Sounds like my kind of climb. #marketing #nomnomnom pic.twitter.com/0Jl3PBqYZo

— J.W. Cannon (@cannonjw) August 26, 2014

Arby's "Mountain of Meat" sandwich
Arby's thinks it's sooooooo cool with its own "off-menu" item. Although Arby's would like us all to believe that it totally came up organically, Slate's investigation of how it actually got started reveals that it's not quite so homegrown as we would like to believe. Still, it's a mountain of meat and people generally dig that.
#IWokeUpLikeThis pic.twitter.com/97d9Abcxjq

— Pumpkin Spice Latte (@TheRealPSL) August 7, 2014

Starbucks' Pumpkin Spice Latte character
No drink could ever garner its own Twitter handle with so many followers, and we find it to be bizarre. But again, people love their PSLs almost as much as they love their mountains of meat.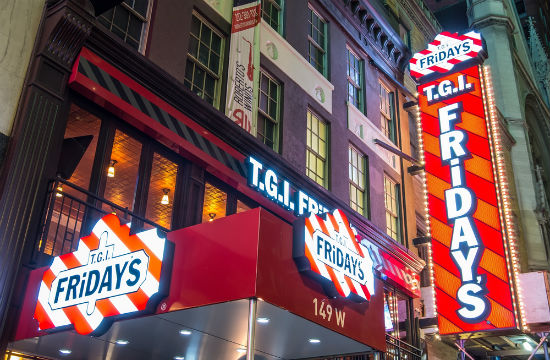 TGI Friday's "$10 unlimited appetizer"
You know how disgusting that all really is, right? Gawker made us never want to look at a mozzarella stick again. But not to be outdone …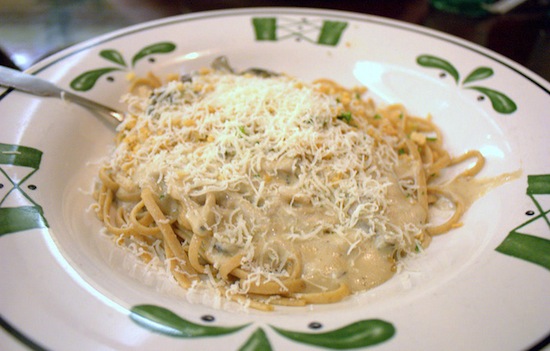 Olive Garden's $100 eat-all-the-pasta-f*ck-orgy
Announced this week, anyone who buys a $100 hall pass for pasta can basically eat for free for seven weeks. That's an unhealthy amount of pasta.
Another reason why @AustinBeerworks is my favorite brewery. 99 pack of beer. pic.twitter.com/szUEfZuE5Q

— Will Meredith (@william_mer) August 25, 2014

Austin Beerworks' 99 beer-pack
We're actually a little sad to disparage this, considering how awesome Austin Beerworks' beer is. And hey, it's a marketing stunt that worked — the 99-packs sold out in a day! But uh, selling 99 beers at once feels slightly irresponsible right … right?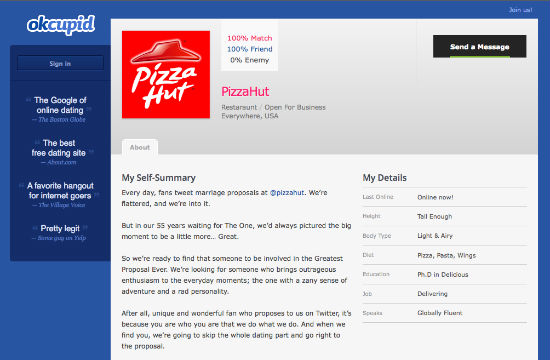 Pizza Hut's OKCupid account
Preying on people's weakness for online dating and carbs? Not OK, Pizza Hut.
CRESTED BUTTE OFF THE CHAIN AT THE WHATEVER USA BUD LIGHT FILMING OF THE COMMERCIAL

@budlight pic.twitter.com/JXJV2Fs4Fa

— Vanilla Ice (@vanillaice) September 6, 2014

Bud Light's "Whatever, USA" campaign
Destroying a Coloradan town so people can parade around in an all-blue town, drink Bud Lights and proudly display a "f*ck off" kind of attitude? How about this, Bud Light: Send all your fans to the middle of a field, where they can only destroy themselves.
Also Vanilla Ice was there?
RELATED: http://www.mediaite.com/pizza-fashion/" title="The Problem With the Pizza Fashion Movement
This Week in Food Crazy: Philadelphia Cheesesteak Egg Rolls and Pizza Pot Pies, Just No
These Food Trend Obituaries Make Us Glad Certain Things End
Have a tip we should know? tips@mediaite.com