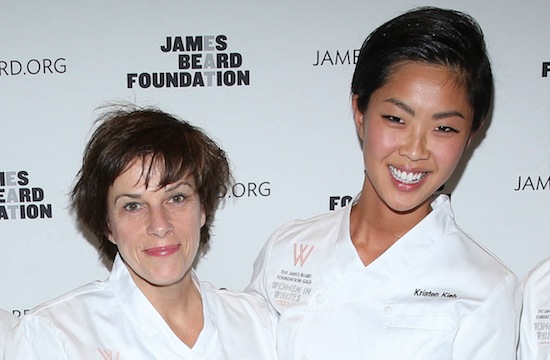 Two years ago, the James Beard Foundation announced a new Women in Culinary Leadership (WICL) program and pulled out the big guns to help them do it: Lidia Bastianich, Martha Stewart, JBF president Susan Ungaro, and more. The second such conference, held in 2014, had more big names to add to the list: Gail Simmons, Kristen Kish, and Dana Cowin. But now the WICL program has announced who will actually be taking women inductees under their wings for the next year, and the number of women signed up is, well, making us sad.
Of the 10 mentors signed up for the program, three are women. They are Christina Tosi, restauranteur Rohini Dey (one of the founders of the WICL program, so we give her major kudos for stepping up to the plate) and Kate Jennings (who is paired up with husband Matt Jennings). Uhhh, ladies, where you at?
Going through our list of recognizable chef and protege relationships (check out our list below), we then began to realize that oh yeah, it's mostly men doing the mentoring. Not that we'll fault them for that. Without a David Chang or Wylie Dufresne, we wouldn't have had our Christina Tosi in the first place. Nor a Mario Batali without an April Bloomfield. And there are plenty more big-name female chefs who have taken today's rising stars under their wing, and we wish we would see more of that girl-power in the kitchen. Consider Barbara Lynch and Kish — Lynch has been largely credited for giving Kish her first kick-in-the-pants boost in the industry, even encouraging her to try out for Top Chef. Or Traci des Jardins, who gave not only Chris Cosentino and Elizabeth Faulkner their starts, but her wisdom and mentorship to James Beard Best Chef Northwest winner Naomi Pomoroy.
In fact, many of this year's James Beard winners can credit lady chef mentors for their success. Bloomfield got her start with Ruth Rogers and Rose Gray at the acclaimed restaurant River Cafe. "They had the most refined palates and taught me how to cook in a way that brings out the best qualities of every ingredient," said Bloomfield about them in an interview with Epicurious last year. "They were so passionate about food that it was hard not to be inspired by them." Best Chef Southwest Ashley Christensen talked about her circle of support in the South, including her own mentor past James Beard winner Andrea Reusing. Reusing said in earlier this month in a panel discussion, "Women being friends and giving each other support – we mentor each other all the time. That's what we do. It's really true. Women cook for people. We don't want people to be hungry. We have a different reason for cooking than some of our colleagues. Most of us, we cook because we want to make people feel good. And we want to make each other feel good and help each other."
And big winner at the James Beard Awards this year, Nancy Silverton, may be the ultimate lady chef. Alice Waters was her mentor; now, dozens of women whom she's worked with over the the years consider Silverton to be the ultimate mentor.
Nancy Silverton is indeed the Most Outstanding Chef. And the most outstanding mentor and friend. pic.twitter.com/Isjx6TnqcK

— Karla Mendoza (@itschefkarlam) May 6, 2014
So uh, ladies — we know we can do better than this. While we appreciate the men, like Batali and Chang, for giving women a prominent role in their kitchens, women should be willing to step up to the plate. Because who will find the next Emma Bengtsson if we ladies don't? When Michelin-starred chefs feel that they're not good enough for the job at hand (Bengtsson nearly didn't take the job at Acquavit that would shoot her straight to the top of Michelin fame), there's something wrong with the picture. Lady chefs, get behind your fellow lady chefs and break that glass ceiling.
Check out the men mentoring men in the kitchen, below.
[imageviewer id=3038]


Update: This article has been updated to correct the spelling of Rohini Dey.
RELATED: The Newest Leading Lady in New York City's Food Scene, Emma Bengtsson, Almost Didn't Take The Job
Food & Wine to Publish All-Female Issue This January, a Huge Coup for Women Everywhere
In Awesome Lady Chef News, 3 Michelin-Starred Chef to Open 2 New Restaurants in New York City
Have a tip we should know? tips@mediaite.com