Which Came First, Auntie Fee or Thug Kitchen? Auntie Fee Strikes Back (VIDEO)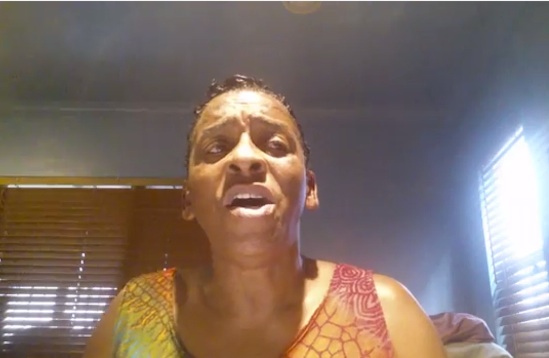 Whoa, nelly.
So, Auntie Fee is back, this time not cooking. In a new video just posted on Youtube, she does her hair (awesome) and then rants about Thug Kitchen, accusing the two (white) co-founders from stealing from her. She notes similarities in language that she claims are from her — and that the co-founders, Michelle Davis and Matt Holloway, aren't being authentic. "I'm thug and i'm f*cking proud of it, … thug to me mean means you're being your goddamn self," she says during the video. "You guys can't tell me that this shit didn't come from me."
She also rails on what we've talked about before: the same tired format of every other cooking show, and with them food TV personality. To which she has a fair point: Auntie Fee and Thug Kitchen broke the mold of what a true food personality should look like long ago. Foodbeast analyzes it for us: "The attractiveness of these new alternative chefs shows us that there is plenty of room in the online kitchen for a host of new-age creators, and that the traditional cooking show is becoming passe and starting to show its age."
As Foodbeast notes, it seems as though much of her beef comes from who done it first — who was the original thug? And, perhaps obvious to the rest of us, there is absolutely racial tension that Auntie Fee detects. From the video (emphasis ours):
"Only difference is … I think it's gonna ride, and it's gonna ride free because a white person wrote it. I don't get it. I don't get it — white, black, it's the same thing. What's the difference? How is that OK? … I mean, this is kind of crazy. Did you see the old lady? The old lady was cussing like a motherf*cker. Did you see the the old woman in her kitchen, cussing in front of her children. … I thought it was beautiful, whoever made it. But you're not gonna get sh*t from me, and you're not gonna get sh*t from my family. That's it and that's all."
And she has a point. While she doesn't address the backlash that Thug Kitchen faced in the book tour glow of its first cookbook, that cookbook is still sitting pretty on the bestseller's list. It quickly jumped to the no. 1 spot on the New York Times bestsellers list; this month, it sits at no. 2, just behind Ina Garten's new cookbook. On Amazon, it's since dropped to the no. 16 spot. So you know, white people "riding free," as Auntie Fee would say.
[Youtube, Foodbeast, New York Times, Amazon]
Have a tip we should know? tips@mediaite.com