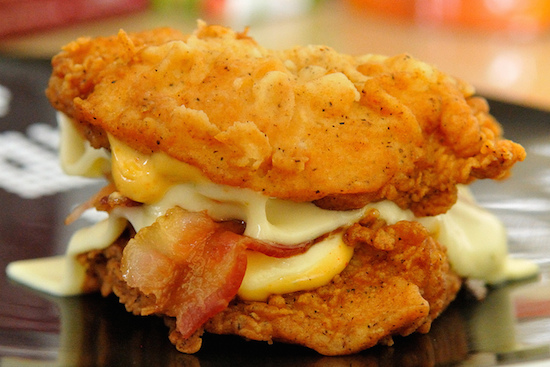 It was revealed that the "best takeout in Newark" that the quarantined nurse (who returned from West Africa to New Jersey last week) received was — brace yourselves — KFC. Kentucky Fried Chicken. Finger lickin' good ol' time in quarantine, eh? Of course, now, the world has a very serious debate on its hands: which will kill you first, ebola or KFC?
@WSJNY @WSJ was this to test the age-old question: What will kill you faster, KFC or ebola?

— Michael (@UC12HoopsX) October 29, 2014
According to the great minds of Twitter,* KFC seems to be it.
Yes, now is the time for everyone to air their grievances about diseases, fried chicken, and fat jokes against Governor Chris Christie. (And the announcement of the Double Zinger did not do much to help KFC's fight against ebola.) The arguments:
Good morning to the Americans having panic attacks over ebola while they pick up their third KFC bucket of the day.

— Rudy's Ghost (@daddysnatcher) October 15, 2014
Quit being afraid of Ebola BECAUSE KFC IS GOING TO KILL US ALL. pic.twitter.com/k209o1rIsy

— Kellen Schneider (@More_Kelbell) October 24, 2014
The nurse held in quarantine in New Jersey was "treated" to KFC … Ebola might actually be better

— Sir Darb Renlim (@BradMilner) October 30, 2014
How to get Ebola RT@BuzzFeed: KFC unveiled a burger that comes sandwiched between two pieces of fried chicken pic.twitter.com/IyugecfKxH

— Diego (@tragiclyfe) October 24, 2014
KFC is now offering a burger sandwiched between two pieces of fried chicken, which is probably a bigger threat to American health than Ebola

— Sarah Diller (@sarahdiller) October 24, 2014
Based on our nation's reaction to Ebola, the KFC Zinger Double Down isn't the sandwich we need, but it's definitely the one we deserve.

— Andrew G Mueller (@andrewcinema) October 29, 2014
When Chris Christie first heard about #Ebola he licked his lips and said hopefully, "Is that the KFC bowl thing?"

— Harold Itzkowitz (@HaroldItz) October 24, 2014
At least one person doesn't seem to be having any issues with it.
Nurse who called Ebola quarantine inhumane got KFC delivered to her tent. Eating fried chicken alone for 3 wks IS MY DREAM. Why so deFRYant?

— Erin Gaetz (@ErinGaetz) October 29, 2014
And neither does KFC, it seems.
Spoiler Alert: It takes a lot to make the world's best chicken.
http://t.co/4kbAItytu6

— KFC (@kfc) October 29, 2014
Who shall win in this fight? How about no one? Got it.
*We're not entirely sure where those great minds are on Twitter, so just some opinionated observers instead.
Have a tip we should know? tips@mediaite.com