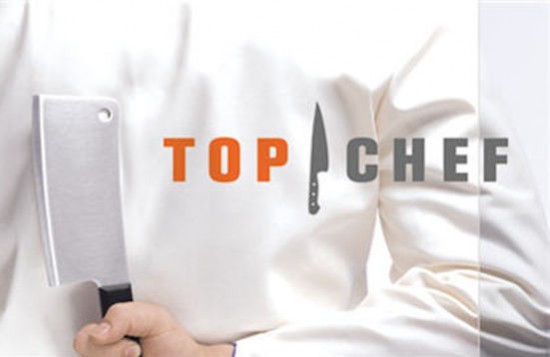 Well, while everyone else is questioning whether the talent on Top Chef has gotten worse in its 12 seasons, we're getting excited to see the drama, we guess.
As the nation gathers for the season premiere of Top Chef tonight, everyone (including Wolfgang Puck) is airing its grievances with the casting. Mainly, that the chefs aren't that good anymore and the challenges are getting weirder. What should we expect from this season?
More untested chefs.
The main complaint of the forthcoming seasons of Top Chef, concludes the New York Post, is the talent: all fluff, no substance. And uh, no skills. From the Post:
One of the new season's chefs fully admits to his lack of experience on his Web page bio.

"Up until four years ago, I was not a chef," declares Michael Patlazhan, 31, one of three contestants working not in a restaurant, but as a private chef and caterer. "I was not really even a cook . . . my experience never went beyond eating in restaurants."
Uh, k. But the reason why very talented chefs aren't going the Top Chef route may not be Bravo's fault necessarily; really, the Post says, the top restaurants in the country don't want to lose their chefs for up to eight weeks. In fact! José Andrés no longer allows his chefs to compete:
[Mike] Isabella says acclaimed Spanish chef José Andrés refuses to let his employees join the show after two of his sous chefs — Isabella himself and Michael Voltaggio — left him to be on it in 2009. Andrés declined to comment, but producer Cutforth admits, "José was quite upset with us."
Ohhhhhh shitttttttt.
"Frivolous" challenges and a lot of Boston accents.
Because everything Boston must fully be taken advantage of, right?
It's not just the random, "frivolous" guest stars appearing this season (among them actor George Wendt and New England Patriot Rob Gronkowski). It's just … everything, so Boston. From the Boston Globe:
"Boston is the American city of firsts: the first park, the first public school, the first library, the first subway," said producer Chaz Gray, a veteran of several "Top Chef" seasons and "The Amazing Race." "It's so fun to relate the food stories of the history of our country and have our chefs add a spin to it."
Uh, do we need Top Chef challenges related to the subway? Have you seen the subway? What about that exactly looks appetizing to you?
And yes, there will be Boston cliches abound — but maybe some more relevant culinary stuff. From the Globe again:
Indeed, the promotional copy for Season 12 of the Bravo cooking competition references the predictable — the B-word, "Cheers," the Green Monster. Early footage previews a challenge involving Thanksgiving at Plimoth Plantation and uses the word "historic" like it's going out of style. But it also refers to today's Boston, the one with the "flourishing culinary scene," and promises appearances from chefs like Jamie Bissonnette, Barbara Lynch, Ken Oringer, Jacques Pepin, and Ming Tsai, as well as renowned culinary sage Robert James Gronkowski.
And yes, we will watch anything with Lynch in it.
A "fan appreciation challenge?"
A tired concept for Top Chef, hoooo boy.
It rings slightly of Hell's Kitchen — after all, who doesn't want to try the cheftestants' dishes? But how well will that really work for the Top Chef format without appearing, to sound like an asshole, guache? The deets:
Episode 1, which takes place at the Museum of Science, introduces a first-of-its-kind, invitation-only food festival with more bold-faced local chef names than their customers ever want to see out on the town all at once. And that makeshift kitchen in Woburn is the scene of the only "fan appreciation challenge" in "Top Chef" history, featuring 75 lucky diners culled from more than 16,000 e-mailed expressions of total devotion. ("I get nervous when I see a fish that might overcook," reads one.)

Kitchen access is the Holy Grail for a fan. Plenty of host cities have offered viewers a chance to be tasters in episodes involving themed contests or private parties or the colossally popular event known as (remain calm) "Restaurant Wars." But there is nothing like getting inside the "Top Chef" kitchen, where every surface gleams, and high-end appliances stand row upon row like the terracotta warriors of Xi'an.
Blue Apron-custom meal boxes with the winning recipes.
Because there aren't nearly enough promotional sponsors involved with Top Chef, now you can order Blue Apron meal kits with the ingredients of winning recipes. We always joke that we want those meals in our mouths immediately, but you know, we don't know if we want that in reality.
But if anything makes us feel better about this season of Top Chef, it's Richard Blais playing "f*ck, marry, kill" with the Top Chef judges. At least we have that.
[New York Post, Boston Globe, Boston Globe, Yahoo Food, Yahoo Food]
RELATED: Wolfgang Puck Slams Top Chef Talent, Wanted to Fire Them All
Here's Richard Blais Looking On Like a Proud Papa As the Newest Top Chef Judge
Top Chef Crewmembers Say Boston Teamsters Attacked Padma Lakshmi and Crew During Filming
Have a tip we should know? tips@mediaite.com