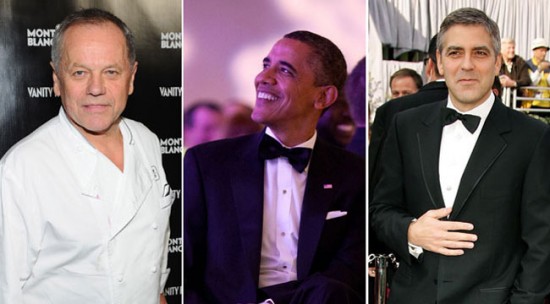 Tonight, Wolfgang Puck will cater an A-list Hollywood fundraiser hosted by George Clooney for President Barack Obama's reelection campaign.
According to TMZ, who scooped Puck's "top-secret" involvement, the Spago chef known for catering the Governor's Ball Dinner at the Academy Awards has signed an "iron-clad" confidentiality agreement. They also quote a source who gleefully revealed that Puck is creating a special menu for the event: "The food is going to be a lot better than the Oscars."
The menu change is probably fitting, since the event — coinciding with Obama's announcement yesterday of his support for same-sex marriage — is also projected to break every fundraising record ever. According to the LA Times, all 150 tickets to the event itself–costing $40,000 each–sold out within an hour yesterday and pumped $6 million into the campaign.
And then a twist: that's only a third  of the projected amount actually raised from the event.
The campaign, realizing that the combined charisma of Clooney and Obama would make most Americans fall down drooling, held an online contest over the past few weeks. Any contribution to the campaign would also enter donors into a drawing for a ticket to the event, all expenses paid. Tens of thousands of people, paying an average $23 per person, entered. Only two get to go. And that is how you raise somewhere between $10 and 15 million dollars in one night.  (The actual number is a closely guarded secret by the Obama campaign, and Obama Foodorama speculates that they're just trying to make Mitt Romney sweat.)
Here is a list of some of the confirmed Specials who paid for the privilege of seeing Obama and Clooney wear tuxedoes in the same room:
Robert Downey, Jr.
Tobey Maguire
J.J. Abrams
And upon further reflection, this sounds less like a dinner and more like an action movie produced by Jeffrey Katzenberg, Dreamworks CEO, who organized the event.  Have fun catering for The Avengers, Puck.
Have a tip we should know? tips@mediaite.com