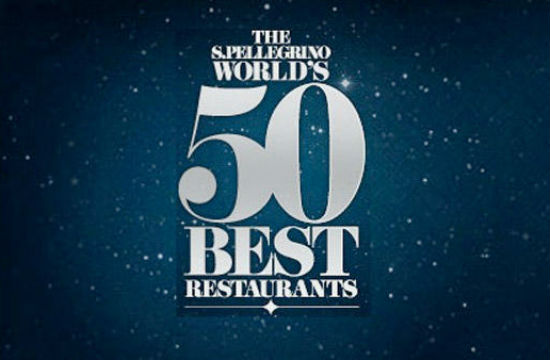 Welp, a couple of Spanish news outlets ruined the surprise for the rest of us, but hopefully you managed to avoid the spoiler alerts (who spoiler alerts an awards show?! Seriously?), and just tuned in to the live stream yourself.
Notably in this year's San Pellegrino World's 50 Best Restaurants, Noma was bumped out of its #1 spot from the past three years running by El Celler de Can Roca in Spain, and not Tokyo's Narisawa, as was previously rumored.
Also, Eleven Madison Park bumped up to #5, from last year's #10 ranking, and has been widely speculated to be moving in on the #1 spot in the next five years. (Although, since grid-gate, who knows?)
Check out the complete list below.
1. El Celler de Can Roca: Girona, Spain
2. Noma: Copenhagen, Denmark
3. Osteria Francescana: Modena, Italy
4. Mugaritz: Errenteria, Spain
5. Eleven Madison Park: New York City
6. D.O.M.: São Paulo, Brazil
7. Dinner By Heston Blumenthal: London
8. Arzak: San Sebastian, Spain
9. Steirereck, Vienna, Austria
10. Vendôme: Bergisch Gladbach, Germany
11. Per Se: New York, New York
12. Frantzén/Lindeberg: Stockholm, Sweden
13. The Ledbury: London, Great Britain
14. Astrid y Gastón: Lima, Peru
15. Alinea: Chicago, Illinois
16. L'Arpège: París, Francia
17. Pujol: Mexico City, Mexico
18. Le Chateaubriand: Paris, France
19. Le Bernardin: New York, New York
20. Narisawa: Tokyo, Japan Best In Asia
21. Attica: Melbourne, Australia
22. Nihonryori RyuGin: Tokyo, Japan
23. L'Astrance: Paris, France
24. L'Atelier Saint-Germain de Joël Robuchon: Paris, France
25. Hof Van Cleve: Kruishoutem, Belgium
26. Quique Dacosta: Dénia, Spain
27. Le Calandre: Rubano, Italy
28. Mirazur: Menton, France
29. Daniel: New York, New York
30. Aqua: Wolfsburg, Germany
31. Biko: Mexico City, Mexico
32. Nahm: Bangkok, Thailand
33. The Fat Duck: Bray, Great Britain
34. Fäviken: Järpen, Sweden
35. Oud Sluis: Sluis, Belgium
36. Amber: Hong Kong, China
37. Vila Joya: Albufeira, Portugal
38. Restaurant Andre: Singapore
39. 8 1/2 Otto E Mezzo Bombana: Hong Kong, China
40. Combal.Zero: Rivoli, Italy
41. Piazza Duomo: Alba, Italy
42. Schloss Schauenstein Fürstenau, Switzerland
43. Mr & Mrs Bund: Shanghai, China
44. Asador Etxebarri: Atxondo, Spain
45. Geranium: Copenhagen, Denmark
46. Mani: São Paulo, Brazil
47. The French Laundry: Yountville, California
48. Quay: Sydney, Australia
49. Septime: Paris, France
50. Central: Lima, Peru
Have a tip we should know? [email protected]