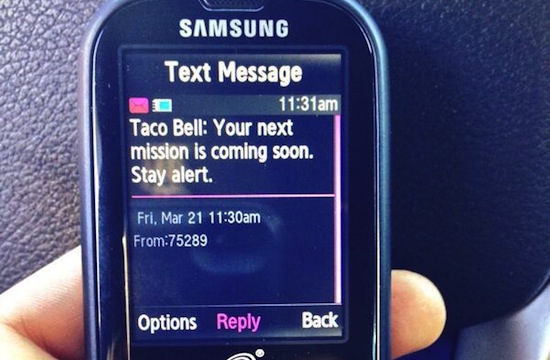 When we noticed some very bizarre Tweets floating around the Twitterverse this weekend, we were like, yes: a "breakfast phone" is exactly what we need. A phone that calls in our much needed bacon, egg, n' cheese (on a roll! always on a roll!) and large cup of coffee whenever it's needed. And then we realized that it was a Taco Bell stunt and we were like NOOOOOOOOOOOOOOOOOOOOO.
But for real, WTF IS THIS THING. Consumerist has the scoop, that the chain basically sent 1,000 free "breakfast phones" — actual cell phones — to "fast-food influencers" to go on "secret breakfast missions." TACO BELL, THOSE THINGS ARE NOT THINGS. And then it became a social media contest for weird Taco Bell fanatics to win one, because who wouldn't want a phone from 2004 to get a Taco Bell breakfast?
Still, we got a kick out of reading Tweets from those who actually received a phone, and those dying to get one. We'll stick with our Seamless app, thanks.
So @TacoBell is making me feel like a secret spy…and I like it. #BreakfastPhone pic.twitter.com/ZhNzWLaijF

— BobbyJ (@BobbyJDetroit) March 21, 2014
so @TacoBell has called my #BreakfastPhone twice today..rad.

— Andonis ツ (@sinodnA) March 23, 2014
This @TacoBell #BreakfastPhone is amazing. It makes/receives calls, comes with its own charger and slides to reveal a keyboard. #humblebrag

— Jeff Barrett (@BarrettAll) March 20, 2014
@TacoBell I would do anything for a #BreakfastPhone #wakeuplivemas

— Ben Madison (@benanamana) March 23, 2014
(Editor's note: ANYTHING?!!? Save that promise for something WORTH IT.)
Having the @TacoBell #BreakfastPhone feels like waiting for Avon Barksdale to call you on the burner. pic.twitter.com/OCcTxuB7HS

— First We Feast (@firstwefeast) March 23, 2014
And those lucky bastards even got waffle taco PJ's.
Waffle Taco Pajamas exist. You're welcome. If you have a #BreakfastPhone, you could win these pajamas. pic.twitter.com/BfkUcJpvT1

— Taco Bell (@TacoBell) March 23, 2014
Hit her from the #BreakfastPhone to let her know that it's real.

— First We Feast (@firstwefeast) March 23, 2014
(Editor's note: We're crying of laughter.)
Not that the Breakfast Phone wasn't without some problems.
Taco Bell is a controlling boyfriend #BreakfastPhone pic.twitter.com/MyNf5ChIKl

— Veronica de Souza (@HeyVeronica) March 20, 2014
I feel like a damn secret agent with this @TacoBell #BreakfastPhone… what if they ask me to kill?

— Eric Striffler (@EricStriffler) March 20, 2014
AND YET.
@TacoBell I have traveled from far lands for 20 years of my life in search of this great #BreakfastPhone which is an item of epic necessity.

— CatchingYourClouds (@drakestopher) March 23, 2014
In conclusion, breakfast phones are a thing and we are worried for the future of our generation.
[http://consumerist.com/2014/03/21/taco-bell-sends-food-writers-burner-phones-with-secret-breakfast-missions/]
RELATED:
Unnecessary Roughness: Taco Bell Patron Assaulted for Not Saying 'Excuse Me' After Burping
Taco Bell to Offer Mobile Ordering This Year, God Help Us All
Breakfast Links: The Best Taco We've Ever Heard Described to Us, Ever
Have a tip we should know? tips@mediaite.com