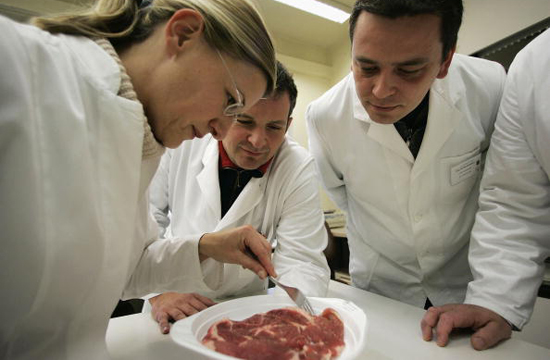 Finally, Congress made a move to save one of our nation's most valued institutions: meat that won't make us sick and die. Yesterday, both the House of Representatives and the Senate passed a continuing resolution that prevents U.S. meat inspectors from being furloughed this summer, a cost-saving measure which would have occurred under the sequester's forced budget cuts. Yaaaaaaaay, Congress.
The bipartisan resolution, according to Food Safety News, will allocate $55 million from other parts of the U.S. Department of Agriculture to fund the Food Safety and Inspection bureau — which has a bigger impact on the food industry than it appears at first glance. The USDA's meat inspectors not only inspect meat (obviously), but also, thanks to federal law and Upton Sinclair, they must be present at meat processing plants in order for said plants to even operate. If the meat inspectors had been forced to take unpaid two-week breaks, the furloughs "would have affected an estimated 500,000 workers at 60,000 plants, costing them nearly $400 million in wages."
Here is a rare case involving Congress in which everybody wins! America wins, because now we can continue cramming our chubby little faces with beef and pork and poultry! The meat industry wins, because they get to keep selling meat and making bacon! Congress wins, because now people won't hate them for taking away our beef/killing us all with salmonella! Antibiotic-resistant bacteria wins, because no one really cares about solving that issue, anyways, as long as we have really cheap meats!
Congress, you're the best. Hugs and pork products for Congress.
Have a tip we should know? tips@mediaite.com