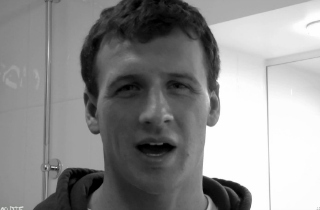 Ryan Lochte ingrained himself in American culture during the 2012 Olympics, when he won his sixth, seventh, eighth, ninth, tenth, and eleventh medals. People loved him so much, he got his own E! show (RIP What Would Ryan Lochte Do) that aired in 2013.
The diets of athletes are always fascinating. Remember when the world's collective mind was blown when we learned that Michael Phelps consumes a whopping 12,000 calories per day?
This week, the Charlotte Observer caught up with Lochte and Glenn Lyman, his personal chef to talk about what the olympian eats on a daily basis, and what some of his weaknesses and guilty pleasures are. Here's what we learned.
1. He has a thing for yellow Starbursts. "I haven't had one in about two months," Lochte said. "I hide them from him around the house," Lyman told the paper. What's up with the yellow? "When I was a kid, all the other kids loved the cherry and the strawberry Starbursts, and the yellow ones were always left. So I said to myself one day 'I got to try these.' And I loved them."
2. He digs New York style pizza. Right now, he's into Libretto's Pizzeria. He's eaten pizza, chicken wings, and drunk one Mountain Dew every single Friday night since he was nine years old. He says since he started the ritual, he's missed it only six times. Lyman said,  "Imagine how many more gold medals you might have won had you not eaten pizza and wings every Friday for your entire life." But Lochte says he "refuse[s] to give it up."
3. Aside from his cheat day, his diet is pretty strict. He eats six times a day for a total of 8,000 calories per day, and he doesn't drink any soda, eat any sweet cereals, or eat anything spicy.
4. He found Lyman by Tweeting that he needed a personal chef.
5.  He won't eat beans. Ever.
–
Have a tip we should know? tips@mediaite.com