Your Daily Dose of Jealousy-Inducing Food Porn, Courtesy of Aspen Food & Wine Classic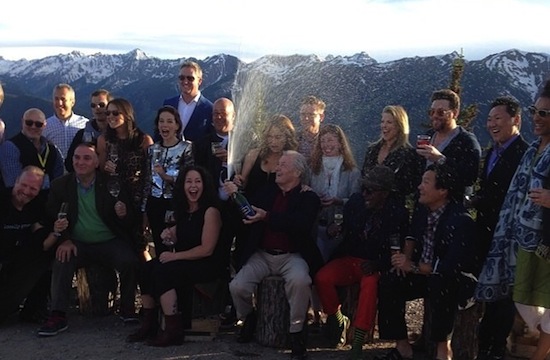 We're just gonna go sit in a corner and cry this one out for a bit.
The pics and deets are already rolling in from the start of Aspen's biggest party, Food & Wine Classic. Just assume that all your imaginary besties are eating and drinking fabulously — and hanging out without you. We know, it's painful.
Not a bad place to be!! #FWClassic ! pic.twitter.com/rruphhPGTR

— stephanie izard (@StephAndTheGoat) June 21, 2014
the official flag of #Aspen: blue, white, and green #fwclassic pic.twitter.com/Niqd4W875s

— Mark Oldman (@MarkOldman) June 19, 2014
Spoken like a rebel Chef. @chefsangyoon: "If you're going to break the rules, you have to learn them." #fwclassic pic.twitter.com/sfVfQMity1

— baltz & company (@baltzco) June 20, 2014
Rising star photographer @Gachatz gets a shot if @dcberan on the line. #fwclassic #fwbnc pic.twitter.com/KpTckcam30

— kate krader (@kkrader) June 20, 2014
Live from the Eater Lounge in Aspen: @HughAcheson's socks #fwclassic pic.twitter.com/4cMyzWiKa0

— Eater National (@Eater) June 20, 2014
What does the fox eat ? Welcome to #FWclassic !!! https://t.co/LGMNQE4JCt

— RichardBlais (@RichardBlais) June 21, 2014
Jacques Pepin showers some of America's best chefs with Champagne love #fwclassic #latergram http://t.co/lEbjtlheDd

— dana cowin (@fwscout) June 21, 2014
#fwclassic! Come to Jimmy's tonight late night for Rio Grande popup, libations, and this little lady. @bonvivants_sf pic.twitter.com/eovvAD1fmS

— The Bon Vivants (@bonvivants_sf) June 20, 2014
We feel like that pinata, hanging above it all and not really a part of it. *TEAR*
/melodramatic pity-me tone
Have a tip we should know? [email protected]