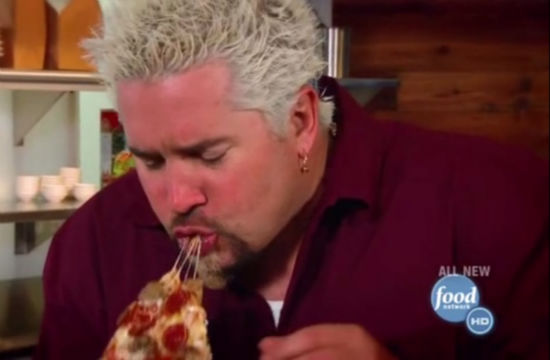 Guy Fieri is loud, his hair is bleached within an inch of its life and those gel spikes may kill you, his sunglasses are questionable, and his catchphrases are definitely questionable. But he's "riding the bus to Flavortown," and we should all get on board, because you're wrong about him, and it's time for the Fieri-hating to stop. He's living his dream.
Fieri has known he's wanted to be in the food industry essentially his whole life. When he was in third grade, he created an "Awesome Pretzel" cart and sold pretzels around school to his classmates. Since then, he's had pretty much an unwavering track. He went to University of Nevada, Las Vegas, and graduated with a degree in Hotel Management before going to work for Stouffers, developing restaurant concepts. He worked his way up at various companies before branching out with his business partner at the time Steve Gruber to open Johnny Garlics. He was unknown but relatively successful.
Today is the "reigning king" of the Food Network, and interestingly, he doesn't cook on any of them. I can't help but draw a comparison to the immensely successful Kardashian clan, the reining kings and queens of the E! Network. The Kardashians aren't actors or singers. They're just famous. Fieri has made himself one of the most relevant people in an industry and on a television channel where he doesn't even do the thing generally required to be relevant and successful. Like Kim Kardashian, he's cashing in on just being who he is, and he gets to do it traveling around the country and eating awesome food. I think that's everyone's dream, isn't it? It's mine. Brilliant.
He hosts two incredibly successful TV shows: Diners, Drive-Ins and Dives, and Guy's Grocery Games. Tell me the last time you turned on the television and there wasn't a marathon of what America lovingly (or hatingly) knows as Triple D.
Fieri gets a lot of flack for pretty much everything he does. Lest we forget the New York Times review heard 'round the world, where Pete Wells completely needlessly and gratuitously smacked down a restaurant that never intended to be reviewed by the paper and likely didn't welcome it. Wells generally issues a review every week. Guy's American Kitchen and Bar somehow made the list of 52 that year. Wells knew what he was going to write before he set foot in the restaurant.
But at the end of Guy Fieri's day, he gets to be Guy Fieri. He's not generally in the tabloids for behaving like an as*hole, he's been married for over ten years and has two children with his wife, and he gets to do the thing he loves every single day. He's doing a lot better than most of us.
Have a tip we should know? tips@mediaite.com