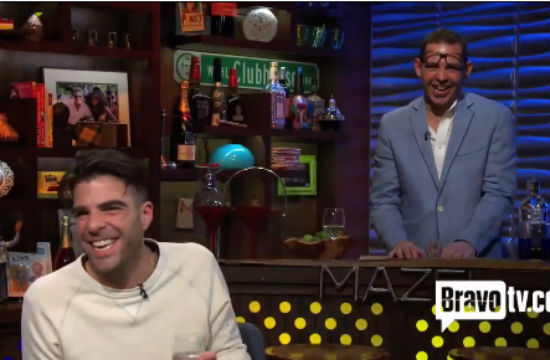 Last night was quite possibly the nerdiest lineup in Watch What Happens Live history: Andy Cohen welcomed both Buffy: The Vampire Slayer alum Alyson Hannigan and Zachary Quinto of J.J. Abrams' Star Trek revamp into the Clubhouse for an episode bartended by none other than Top Chef: Seattle's John Tesar.
(Spoiler alert from a forthcoming interview with John: mixing drinks in the Bravo Clubhouse was an item on his Chef Bucket List. Stay tuned for more on that.)
As we all know, WWHL hosts awkward celebrity party games of all stripes, and one of last night's involved forcing Alyson and Zachary to look at porny fan art of themselves from the Buffyverse and Star Trek-verse respectively. It was obviously completely disturbing, and one involved Dr. Spock, Captain Kirk, and kittens. Don't ask, just watch.
Anyway, Zach's turn at "Plead the Fifth" came around on the aftershow, and he made it all the way to his final question without having to plead when Andy dropped the bomb: "When was the last time you watched porn?"
Zachary grew visibly uncomfortable and turned away from the cameras to squirm his way out of it when Tesar helpfully reminded him of the game they had just played from behind the bar: "Two minutes ago," he shrugged.
Zachary wheeled back towards Andy: "Yeah, exactly. Two minutes ago on your show, when you showed me pornographic pictures of myself."
"Well played," Andy condeded. "Even though you got that answer from John Tesar."
You're welcome, Quinto.
Check out Zachary's "Plead the Fifth" below.
Have a tip we should know? tips@mediaite.com