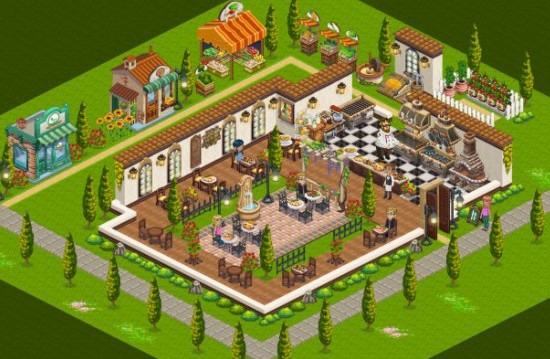 Everyone loves restaurants these days. They're a (sometimes) affordable, fun way to socialize with your friends in a beautiful setting, where you can spend your hard-earned dollars on fantastic drinks, stellar service, and the experience of eating the freshest-sourced foods prepared by talented chefs.
Which is why Zynga thinks that you should do all of that online instead of in the real world.
Yes, that's correct. The crippled social media giant wants you and your friends to spend all your money on fake food in a fake restaurant you run yourself in its newest social game, ChefVille. 
The goal of the game is much like FarmVille, its evil older sister, in that players spend real money on fake things design and run restaurants around a theme, picking the decor, designing the menu, buying produce (er, becoming an "ingredient specialist"), and cooking for customers, VIPs, and critics.
As an incentive, players can unlock recipes that they can cook in their own kitchens (though given how addictive FarmVille is, the chances of you leaving your computer to actually cook is rather slim).
According to CNET, the people responsible for the worst game in the world designed the game to give office drones "a chance to take a 'snack break' from their day and connect online with friends, but also dish out real recipes that we hope serve as a catalyst for continued dining experiences with loved ones at home."
(It was definitely not to make a pile of money to deal with their litany of problems, like multiple lawsuits, poor quarterly reports, and allegations of insider trading. Nope.)
On the one hand, this might allow people to pursue their fantasies of being Joe Bastianich through the safety (and time-suck) of the internet, though the results will probably end up looking like Jeffery Chodorow. On the other hand, this might be a horrible thing in that it could encourage people to try running their own real-world restaurants.
Oh god, it's like the debate over whether internet pornography prevents violent sex crimes.
ChefVille is not currently available on Facebook, so don't go looking for it, because it's certainly not available right now to destroy your life.
[CNET]
Have a tip we should know? [email protected]