AG Barr Reportedly Has Surreal Exchange With Pelosi: 'Madam Speaker, Did You Bring Your Handcuffs?'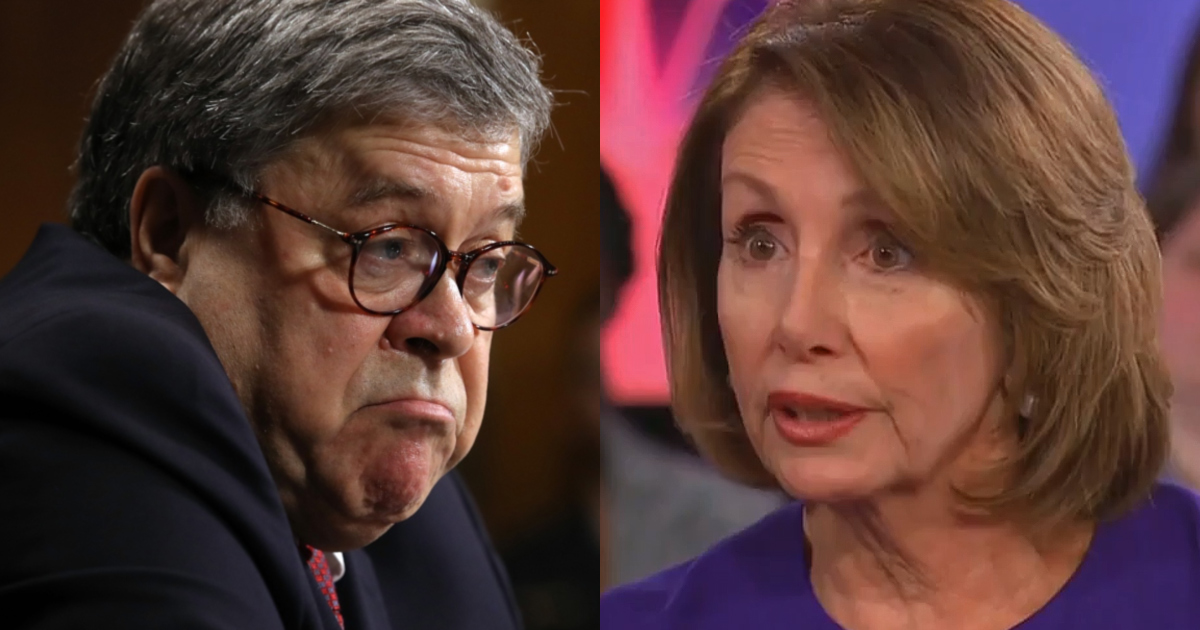 Tensions between Attorney General William Barr and the Democratic-controlled House of Representatives seemingly couldn't be higher at the moment — following the House Judiciary Committee passing a resolution to hold the Department of Justice head in contempt of congress for refusing to release the unredacted Mueller Report. And so Wednesday on Capitol Hill, the AG — in an apparent effort to diffuse the tension — reportedly went up to House Speaker Nancy Pelosi and initiated a truly surreal exchange.
As first reported on Twitter by Fox producer Sean Langille, and then confirmed by multiple outlets, Barr approached Pelosi following the National Peace Officers' Memorial Service on Capitol Hill.
A source close to Barr tells @JakeBGibson he saw Pelosi in a holding tent after the service, approached her and at some point asked the Speaker if she had brought her handcuffs. There was some laughter but no word on Pelosi's exact response.

— Sean Langille (@SeanLangille) May 15, 2019
New York Times reporter Nicholas Fandos tweeted Barr's specific quote:
"Madam Speaker, did you bring your handcuffs?" The attorney general said.
Today at a law enforcement ceremony at Capitol:

AG Barr approached Pelosi, shook her hand: "Madam Speaker, did you bring your handcuffs?"

Pelosi smiled and, per a bystander, told Barr the House Sergeant at Arms was there should an arrest be needed. Barr laughed; walked away

— Nicholas Fandos (@npfandos) May 15, 2019
Fandos and others report that Pelosi smiled, then told Barr that the House Sergeant at Arms was on standby, if needed. Barr then is said to have laughed and left the conversation.
The full House has yet to vote on the contempt resolution.
[image via screengrab]
Have a tip we should know? tips@mediaite.com
Joe DePaolo - Senior Editor