Obama Press Secretary Jay Carney on Joe Biden, Jen Psaki, and Making Nice with Fox News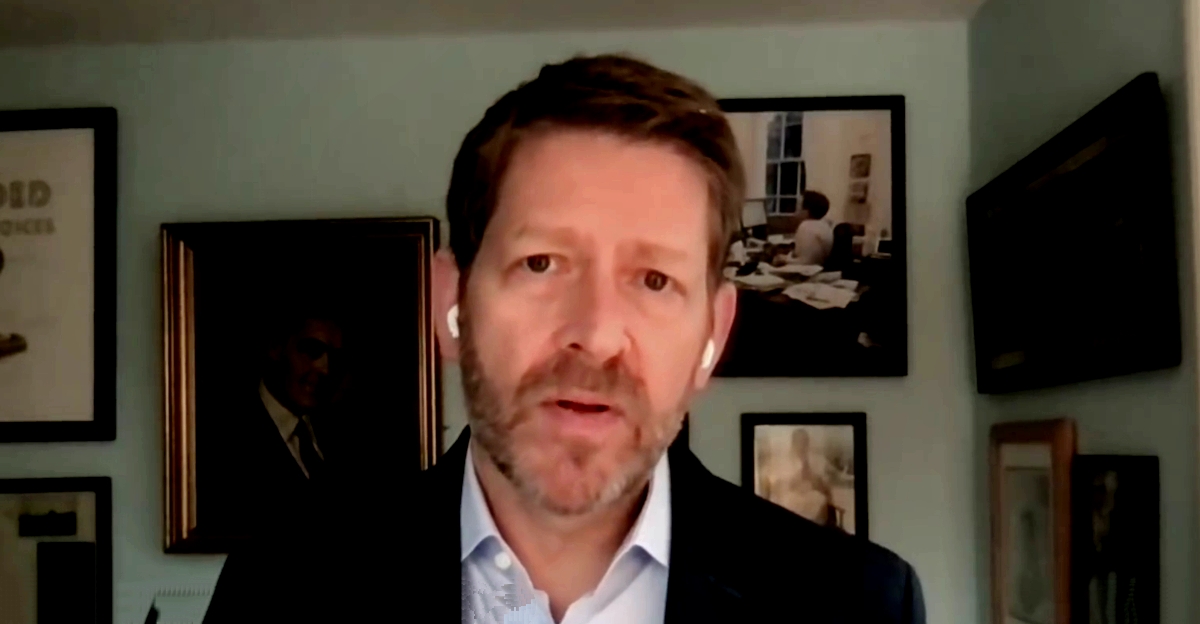 In an exclusive interview with Mediaite, former White House Press Secretary Jay Carney said that President Joe Biden is the man for this moment, Jen Psaki is "killing it" as chief spokesperson, and making nice with Fox News is a fool's errand.
Carney — who is currently senior vice president of Global Corporate Affairs for Amazon — served as director of communications for then-Vice President Joe Biden before inheriting the podium in the Brady Briefing Room from Robert Gibbs in 2011. His tenure as President Barack Obama's press secretary would be the longest of any chief spokesperson since the 90s, and overlapped with my own 9-year stint covering the White House.
I reached out to Carney for his take on a Daily Beast report that falsely suggested that Psaki screens out tough questions, but we covered some other ground as well.
For his part, Carney joined other current and former White House journalists in pointing out that the "controversy" described in that piece is actually standard procedure for every press shop (the article itself says this as well), and pointed out that "it's not like Jen [Psaki] isn't calling on everybody, including Fox News, all the time and taking tough questions. So that's how it works."
I asked Carney to assess Psaki's performance so far, not two weeks into the job, and whether he had any advice for her.
"I think I can honestly say I've been blown away, but I knew that," Carney said, adding that from the moment she was mentioned for the role, "I always thought she was exactly the perfect person for this job."
"Obviously the president had a number of great choices, the president-elect, but her combination of experience, experiences, and her just unbelievably humble, authoritative disposition is ideally suited to this job," Carney said. "I don't think there's anybody who's ever taken the job, especially the first press secretary of a new administration in the White House, who's been better prepared for this, or more of an obvious and smooth fit."
Citing Psaki's experience in the Obama comms shop and her time as State Dept. spokesperson, Carney noted that she "doesn't have to get up to the speed on a lot, and it's pretty apparent from day one in watching her."
"And honestly, what I always loved about Jen was that she was incredibly smart and expressed her views forthrightly, but was impossible not to like because she's so genuine and decent and funny," Carney said, "and that's a nice combination of skills for this job, and I think she conveys really well."
Carney added that Psaki is not just excelling in contrast to her immediate predecessors, but that "even if you ignored the last 4 years, she's been, she is already killing it in the job."
Psaki has had several notable exchanges with reporters from conservative-leaning outlets like The Washington Examiner and Fox News, and I asked Carney how he thinks she's handling it, and if he has any advice on that score.
"I've seen some of that and I feel like she's handled it deftly, with a little humor, but confidence," Carney said. "I think it's been really good."
"Look, it's a challenging situation," he continued. "One of the things I set out to do when I started as press secretary was to try to improve the relationship with Fox News. I earnestly endeavored to do that. And remember, I started as press secretary literally as birtherism was taking flight, driven by Donald Trump, everywhere, but principally on Fox."
"And I tried, and I just became, certainly by the time I finished my three and a half years as press secretary, it was just so incontrovertible that Fox, even then, was principally a partisan organization that trafficked in falsehoods and race-baiting and partisan endeavors, even in its so-called news blocks," Carney said.
Carney was a much more disciplined press secretary than his predecessor Robert Gibbs, and possessed a Spock-like even temperament, but things eventually became so strained between him and Fox News that he ostentatiously shunned then-White House correspondent Ed Henry at a briefing.
"I don't regret the effort but it was, it certainly didn't get us anywhere," Carney said of his attempt to make nice with Fox. "I think to the extent it helped keep the atmosphere in the briefing room relatively calm, I guess that was a good thing."
"But what I realized, having come from the media, although I had been in the White House for two years working for Biden, is that they weren't a serious news organization, and to keep trying to meet them on that ground was to be fooled and fooled again," Carney said.
I asked if he's seen any changes in Joe Biden over the years, and Carney was effusive, even lyrical, in his praise for the current president and his former boss.
"He learned a lot, obviously having been a senator, he learned about running an administration, running an executive branch serving his vice president for 8 years," Carney said. "He also, I think, has been through a lot, as you know, personally, principally because of Beau."
"And I think… when he framed his decision to run in the 2020 cycle as a reaction to Charlottesville, it was genuine, right? It was sincere, and that's why he ended up being the right candidate for this cycle.
"I think he was powerfully affected by that, and has been around long enough, and has always been so infused with optimism, with sincere optimism about the capacity for America to continue to get better and better and better, that he was pretty rocked by what was happening. Which obviously turned out to be a good thing because I'm not sure we would have won otherwise, if he weren't the candidate," Carney said.
"One of the most impressive things I've ever seen in politics, just as an observer, was the just total commitment and consistency to a single message from the day he announced to the day he won," Carney added. "Like, 'This is how I'm going to run, this is who I am, and if I win I win, and if I don't I don't.'"
"And you know, you've covered politics for a long time, that's pretty unusual. Pretty unusual. And it's really to his credit overwhelmingly, and to the credit of the team that supported him through it, and now he's getting to execute on it," Carney said.
Carney spoke very fondly of his time in the White House with Biden and Obama, and said "it all started because I got to work with two men who have incredibly high integrity. Leadership matters."
Editor's Note: This interview was conducted before news broke that Jeff Bezos is stepping down as Amazon CEO.
Have a tip we should know? tips@mediaite.com