Poll: Trump and Nixon Only Presidents Viewed Unfavorably by Majority of Americans, Lincoln Most Popular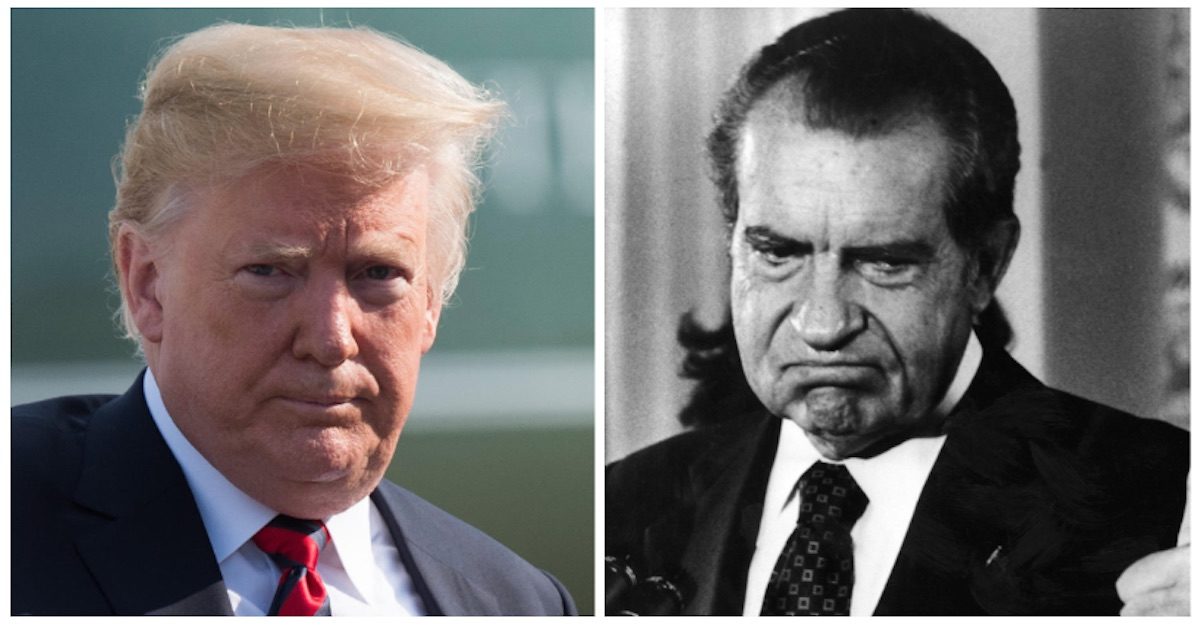 Abraham Lincoln is the president viewed most favorably by Americans, according to a YouGov poll released on Tuesday. Fifty-six percent said they have a "very favorable" view of the 16th president, while 24% said they hold a "somewhat favorable" view of Honest Abe.
Lincoln is one of 10 presidents a majority of Americans regard very or somewhat favorably, while two presidents notched majority unfavorable ratings: Richard Nixon and Donald Trump.
Nixon, of course, is the only president to resign from the job, having been disgraced by Watergate and his subsequent attempts to cover it up. Even worse, his actions birthed an ongoing decades-long meme whereby political pundits feel compelled to add the suffix "-gate" to every political scandal. He is viewed unfavorably by 57% of Americans. On the other hand, 50% of Republicans view Nixon favorably.
For Trump, 54% of Americans view him unfavorably, with 47% saying they have a very unfavorable opinion of him, which could be problematic if the 45th president decides to run for a second, nonconsecutive term in 2024.
Speaking of nonconsecutive terms, 61% of Americans either haven't heard of, or don't have an opinion about Grover Cleveland, who served as the 22nd and 24th president. (This is why, when someone says that 46 people have been president, you should pedantically correct them by pointing out that even though Joe Biden is the 46th president, only 45 people have been president.)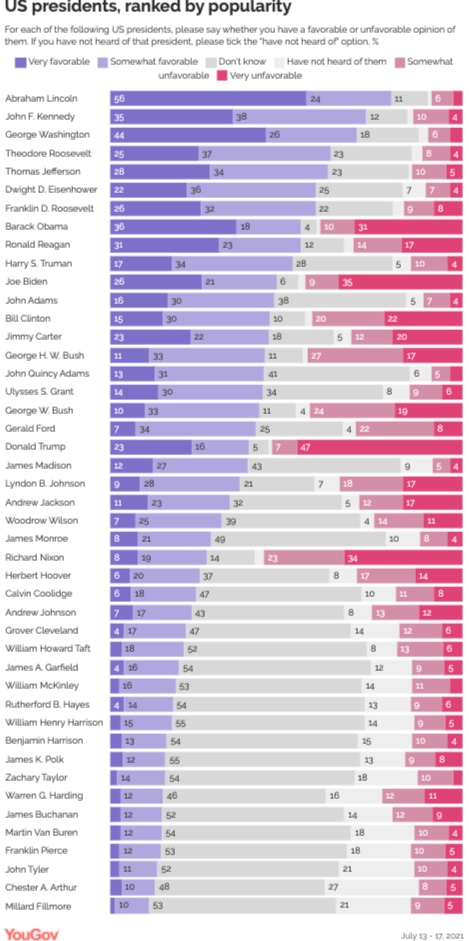 Regarding Biden, who is just six months into his term, 47% of respondents said they have a favorable opinion of him, while 44% hold an unfavorable view. Thirty-one percent say they have an unfavorable opinion of the current president.
As for the moment you've all been waiting for – the numbers for Chester A. Arthur – a whopping 48% said they have no opinion of his time in office after ascending to the presidency in the wake of James Garfield's assassination in 1881. Twenty-seven percent said they hadn't heard of Arthur, which can only mean they didn't see Die Hard with a Vengeance, where the 21st president is the answer to a riddle posed by baddie Simon Gruber.
Millard Fillmore also suffers from a dearth of recognition among the populace, with 21% saying they have not heard of him. He is not to be confused with the comic strip character Mallard Fillmore, who quite possibly is more recognizable than the 13th president.
Among Republicans, Trump ranked fourth in favorability behind Lincoln, Ronald Reagan, and George Washington, respectively.
Meanwhile, Barack Obama is the most popular president among Democrats, as 70% have a very favorable view and 19% have a somewhat favorable view of him.
Notably, 14% of Americans have an unfavorable view of the presidency of William Henry Harrison, which lasted just 31 days before he died. Talk about a tough crowd.
Have a tip we should know? tips@mediaite.com