Texas GOP Lawmaker Dismisses Vaccines as 'Sorcery,' 'Dangerous,' and 'Self-Enriching Science'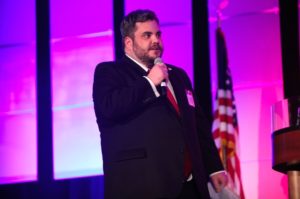 A Republican state legislator from Texas went on an extended Twitter rant on Tuesday, dismissing concerns over an ongoing measles outbreak in his state and calling vaccines "sorcery," "dangerous," and "self-enriching 'science.'"
Rep. Jonathan Stickland, who represents a state legislative district near Fort Worth, initiated his outburst on Twitter after a Houston-based pediatrician and vaccine scientist, Dr. Peter Hotez, decried the rising number of vaccine exemptions being granted in the state.
Suggesting a grand conspiracy behind the science of vaccines, Stickland attacked Hotez, saying: "You are bought and paid for by the biggest special interest in politics. Do our state a favor and mind your own business. Parental rights mean more to us than your self-enriching 'science.'"
In a subsequent exchange, Stickland derided the public health science of vaccines as little more than a scam.
Make the case for your sorcery to consumers on your own dime. Like every other business. Quit using the heavy hand of government to make your business profitable through mandates and immunity. It's disgusting.

— Jonathan Stickland (@RepStickland) May 7, 2019
When others challenged on his evidence-free skepticism of vaccines, Stickland doubled down, framing the issue around political and religious ideology.
Typical leftist trying to take credit for something only The Lord God Almighty is in control of. Repent!

— Jonathan Stickland (@RepStickland) May 7, 2019

Another doctor's efforts to intervene and explain vaccine science to Stickland only prompted more invective from the lawmaker.
Personal responsibility and parental rights confuse you, I get it. You're a brainwashed commie, not all your fault.

— Jonathan Stickland (@RepStickland) May 7, 2019
According to the CDC, the number of measles cases nationwide has spiked to a confirmed 764 cases so far in 2019, a figure more than double all the cases reported in 2018. Texas has also recorded a steep rise in measles, with at least two-dozen cases reported in 2019, the most since 1994. Nevertheless, vaccine exemptions granted for non-medical reasons continue to rise in the state and now stand at nearly 65,000 children, a roughly 2,000 percent increase from 15 years ago.
Photo above, via Creative Commons
Have a tip we should know? tips@mediaite.com