Trump Official Peter Navarro Attacks Stephanie Grisham for 'Betrayal': She 'Openly Hoped' for Trump's Defeat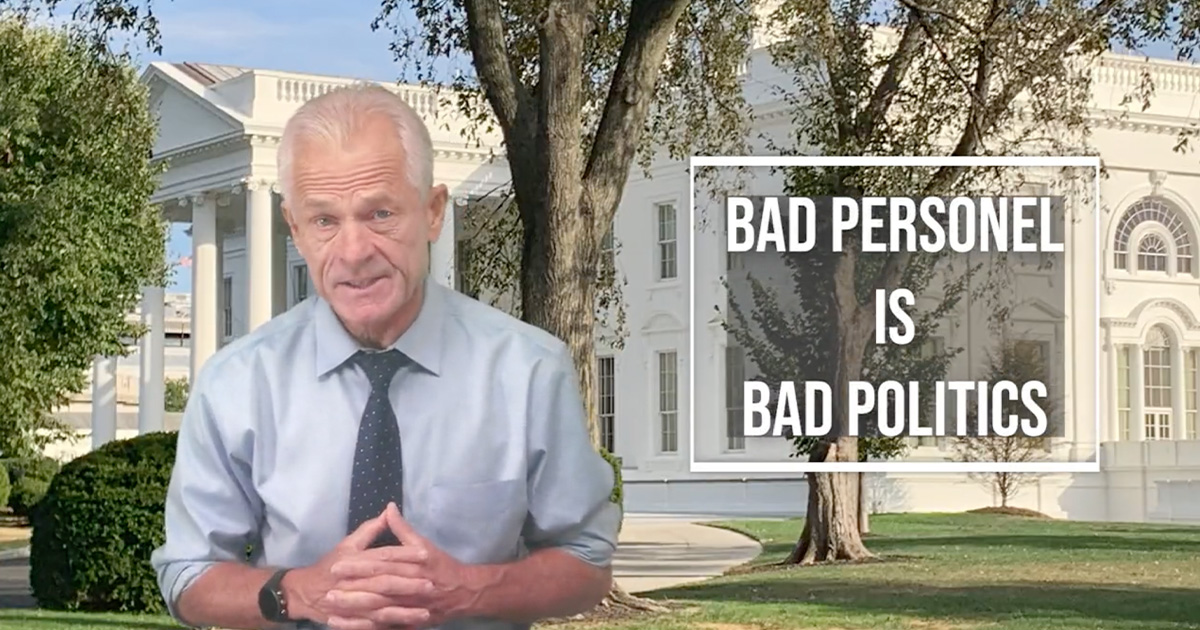 Trump White House official Peter Navarro attacked Stephanie Grisham for her tell-all in a video promoting his own tell-all.
Grisham resigned the night of January 6, and during her recent book tour the former White House Communications Director expressed some regrets about how she enabled Trump.
She's even said she would cooperate with the January 6 committee if they reach out.
Navarro, meanwhile, is still firmly on the Trump Train. He was one of the most vocal White House officials propping up the big lie before and after January 6.
Navarro's Wednesday video started out with the message "Bad Personel is Bad Politics." (The word personnel was misspelled in the graphic.)
In Trump Time book due Nov 2 establishes Bad Personnel is Bad Policy. Key lesson with Stephanie @omgrisham: Never hire a press sec without intellect/training to parse POTUS policies. Chew this @hunterw @rickklein @chriscillizza @liz_cheney @margbrennan @olivianuzzi @maggieNYT pic.twitter.com/qIyGJpjhXz

— Peter Navarro (@RealPNavarro) October 20, 2021
He talked up his upcoming book In Trump Time to contrast it with Grisham's "hell hath no fury pity party."
Navarro said the lesson Grisham's "betrayal" shows is to "never hire a press secretary who lacks both the intellect and training to understand the nuances of your policies."
"[She] openly hoped for the defeat of Donald Trump, praises the treachery of Liz Cheney, and thinks Mick Mulvaney and his globalist deputy chief of staff were actually competent," he continued.
"What is most disappointing about Grisham is her betrayal of the most elegant and graceful First Lady since Jackie O. Melania Trump did nothing but love and help Stephanie Grisham right up to the January 6 day," Navarro said, referencing the big lie again.
The video ended with another plug for his book.
Grisham shot back on Twitter mocking Navarro's misspelling of "personnel":
You spelled "Personnel" wrong in your little video…but I'll be sure to work on my intellect. https://t.co/j75cFhVewp

— Stephanie Grisham (@OMGrisham) October 20, 2021
Have a tip we should know? tips@mediaite.com
Josh Feldman - Senior Editor