VIDEO: Indonesian Tsunami Caused by Volcanic Eruption Strikes Stage as Band Performs Live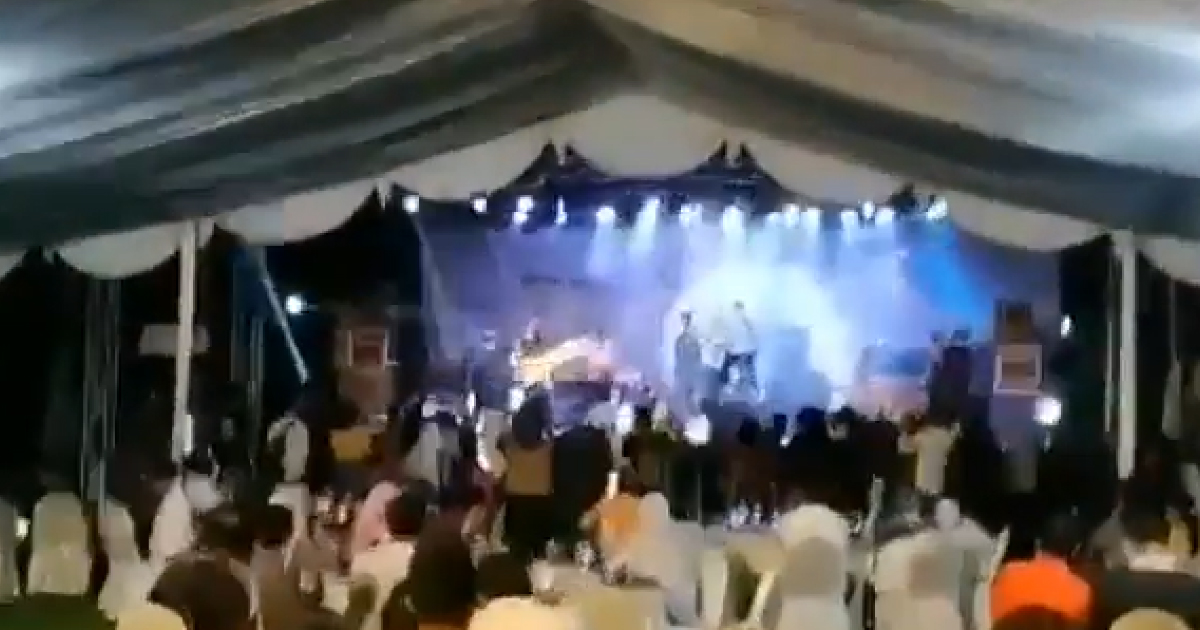 Hundreds have been killed and many more injured or unaccounted for on Sunday after a tsunami set off by a volcanic eruption washed over Indonesia. Among those killed were members of a band, and the audience, featured in a video clip that has spread across the internet.
Anak Krakatau, or "Child of Krakatoa" is an infamous volcanic island formed in the aftermath of the world-shaking eruption of Krakatoa in the 19th century. When it blew this weekend, the landslides and eruption unleashed the tsunami.
The Indonesian pop band "Seventeen" was performing at an event in Pandeglang on the island of Java in Indonesia at the time the wave struck. The dramatic video below shows the moment of the strike, as the band is on stage and the audience is caught up in the show, all not knowing the devastation was incoming.
WARNING: This video shows the moment of a tragic disaster that resulted in deaths, including of some of the individuals shown.
Terrifying video shows tsunami crashing into the Indonesian band Seventeen in concert at the Tanjung Lesung Beach, Banten. The band's bass player and road manager are dead, three other band members and the singer's wife are missing. #Tsunami #PrayforBanten #PrayForAnyer pic.twitter.com/mLlTr0donT

— Ericssen (@EricssenWen) December 23, 2018
The AP reports that the band issued a statement that their bass player, guitarist and road manager were found dead, while two other band members and the wife of one of the performers are still missing.
Other videos show some of the devastation and aftermath, including this clip from the posh Grand Elty Krakatoa Resort in Lampung on the southern end of Sumatra.
Dampak gelombang tinggi, air laut masuk ke Grand Elty Krakatoa, Kalianda Lampung Selatan, Sabtu (22/12) malam. Warga pesisir pun mengungsi ke tempat yang lebih tinggi mengindari terjadinya bencana. #iNews #Lampung #Tsunami pic.twitter.com/HbTIs7ylFS

— iNews (@OfficialiNewsTV) December 23, 2018
Photos shared on social media show the aftermath as well.
?? Death toll from Indonesia tsunami rises to 222: Officials #AFP
? Azwar Ipank pic.twitter.com/IbcRm0Fzyx

— AFP Photo (@AFPphoto) December 23, 2018
Volunteers with the Indonesian Red Cross are on the ground, helping in the response to the #Krakatoa #tsunami. This is some of what they are seeing. pic.twitter.com/ac3GL0GTX8

— Kathy Mueller (@kats_clicks) December 23, 2018
Over 220 people have been killed at last count, though the toll may rise as many are still unaccounted for. Nine hotels were heavily struck, as well as hundreds of homes, and casualties include both residents and tourists in the popular beach resort areas which faced the brunt of the wave.
[Featured image via screengrab]
—
Follow Caleb Howe (@CalebHowe) on Twitter
Have a tip we should know? tips@mediaite.com
Caleb Howe - Contributing Editor