WATCH: Lou Dobbs' Fox Interview Boosting Wild Election Claims at Center of Dominion Lawsuit
Former Fox Business host Lou Dobbs has appeared front and center in the ongoing Dominion Voting Systems lawsuit against Fox News for $1.6 billion for alleged defamation. In particular, a Nov. 30th, 2020 interview with Sidney Powell was repeatedly mentioned by Dominion's lawyers and the court cited the interview in its summary judgment ruling on Friday.
On Friday, Delaware Superior Court Judge Eric M. Davis issued his ruling on three motions for summary judgment, concluding that a jury will decide whether or not the network aired false claims with "actual malice" – the standard for legal defamation.
"The evidence developed in this civil proceeding demonstrates that (it) is CRYSTAL clear that none of the statements relating to Dominion about the 2020 election are true," Davis ruled in his summary judgment ruling. Davis additionally found that Fox News cannot argue that statements made about Dominion on-air were asserted protected opinion or simply "neutral" newsworthy allegations.
Fox News released a statement following the ruling: "This case is and always has been about the First Amendment protections of the media's absolute right to cover the news. FOX will continue to fiercely advocate for the rights of free speech and a free press as we move into the next phase of these proceedings."
In making this ruling, Davis wrote:
Only one statement, made on the November 30, 2020, Lou Dobbs Tonight broadcast, references an official proceeding, and therefore only that allegation can be tested for the privilege. Because the fair report privilege only applies to substantially accurate reports about proceedings, not the underlying facts, the statement fails.

Ms. Powell alleged that "all the machines are infected with the software code that allows Dominion to share votes" and called it "the most massive and historical egregious fraud the world has ever seen." Because the statements do not concern official proceedings, the fair report privilege should not apply.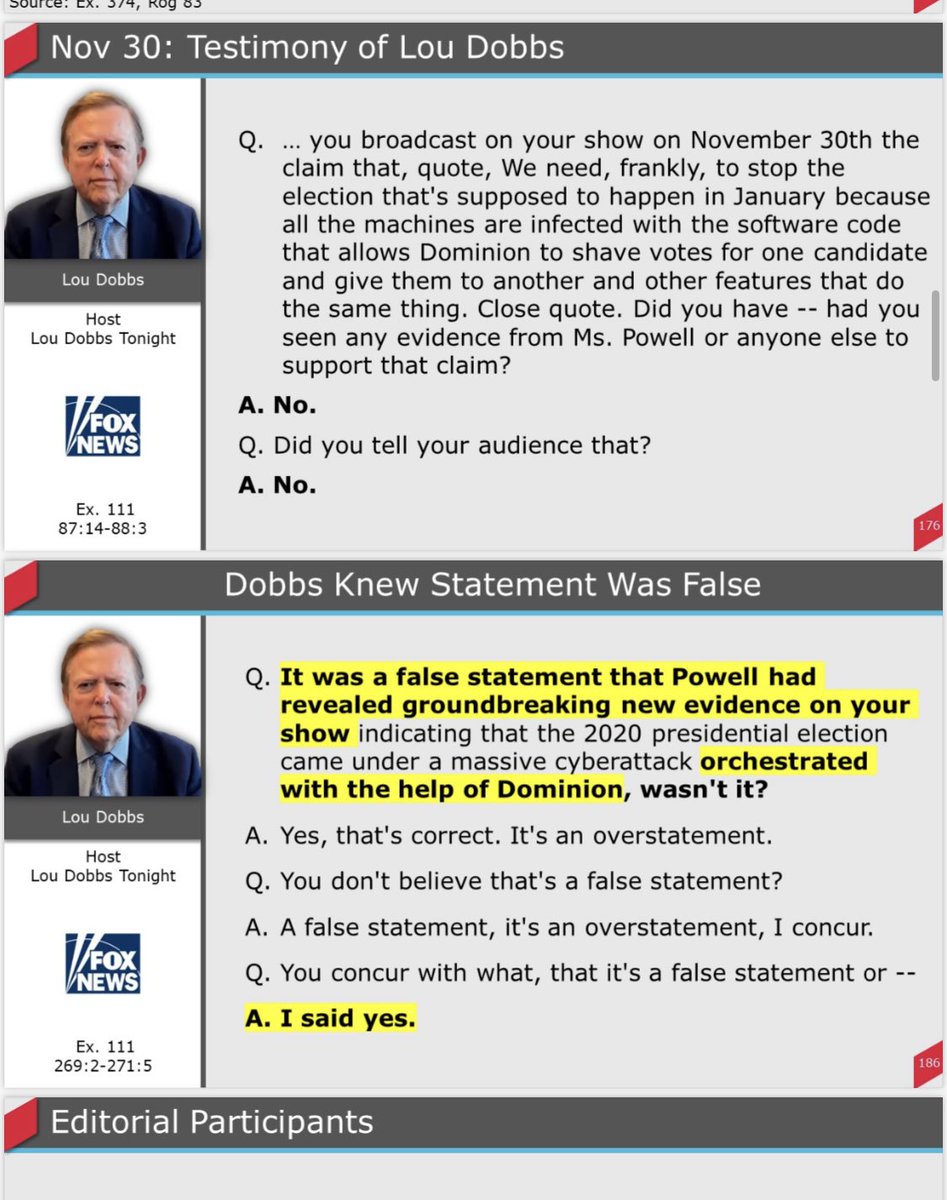 Additionally, in his deposition with Dominion, Dobbs was asked if he believe that the statement by Powell was "false":
Q. It was a false statement that Powell had revealed groundbreaking new evidence on your show indicating that the 2020 presidential election came under a massive cyberattack orchestrated with the help of Dominion, wasn't it?
A. Yes, that's correct. It's an overstatement.
Q. You don't believe that's a false statement?
A. A false statement, it's an overstatement, I concur.
Q. You concur with what, that it's a false statement or —
A. I said yes.
Fox News's lawyers argued that the Dominion claims were "allegations" from Powell and that "Dobbs' own contributions are protected opinion."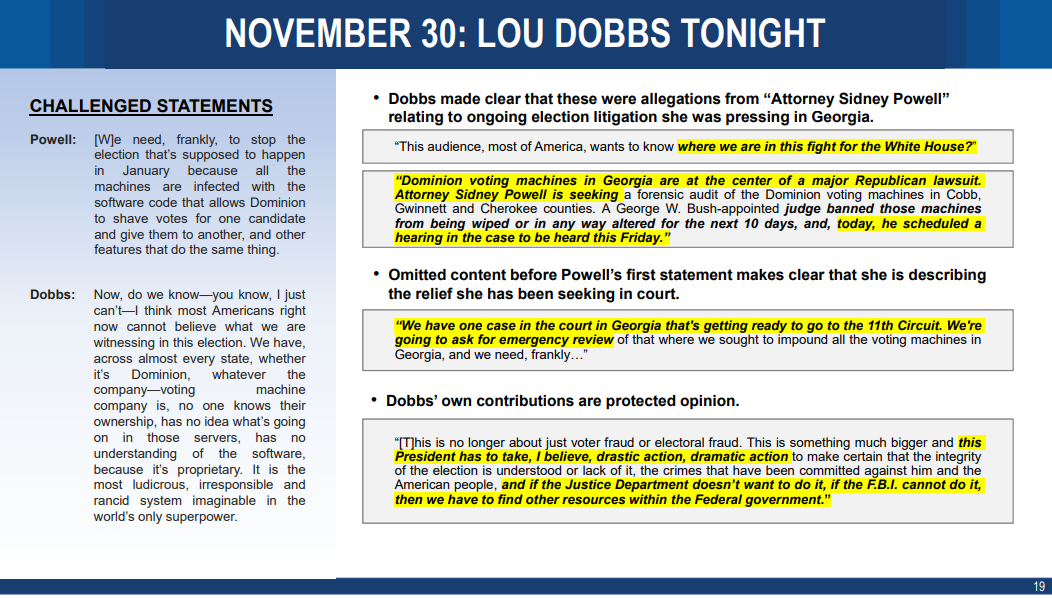 During the Nov. 30th interview Powell declared, "We're going to ask for emergency reveal review of that, where we sought to impound all the voting machines in Georgia. And we need, frankly, to stop the, the election that's supposed to happen in January because all the machines are infected with the software code that allows Dominion to shave votes for one candidate and give them to another and other features that do the same thing."
Dobbs allowed Powell to finish her wild statement and replied, "The top officials of the Georgia state government, the secretary of state, the governor, Brian Kemp, was in a very similar situation as we reported here at the top of the broadcast three years ago when he was secretary of state and he was sued as secretary of state, the state of Georgia. And incredibly, as soon as that lawsuit was filed, that server under Secretary of State Kemp was wiped. And that has obviously was at the core of your concerns in seeking an injunction from Judge Batten, the federal district court judge who issued the restraining order."
"Correct. And guess what happened yesterday while we were in the process of trying to get the state to respond for our request to the restraining order, someone went down to the Fulton Center where the votes and Dominion machines were, claimed there was a software glitch and they had to replace the software. And it seems that they removed the server," Powell then claimed.
As the conversation continued, Dobbs asked Powell what might be behind Kemp certifying the 2020 presidential election. "I think there's a lot going on, Lou. I think there's a lot of corruption there underneath the surface. We've gotten tips from different people that we haven't been able to verify completely yet, but it seems that there were significant benefits for both Governor Kemp and perhaps Mr. Raffensperger also and maybe others on their team for deciding at the last minute to rush out in a contract for Dominion for $107 million for the state," Powell replied.
The interview concluded with Dobbs tearing into the FBI and U.S. election integrity. Lou Dobbs Tonight was canceled on Feb. 5, 2021 after almost a decade on Fox Business.
Watch the full clip above via Fox News.
Have a tip we should know? tips@mediaite.com
Alex Griffing - Senior Editor