'The F Word': Bar Owner Posts Amazing Response to Starbucks' Cease-and-Desist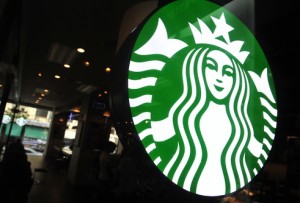 Users on the mobile drinking app Untappd christened a drink at the Exit 6 Brewery in Missouri as the "Frappicino." Starbucks, obviously, did not care for this at all, and sent a cease-and-desist letter to Jeff Britton, the owner of the bar. But instead of dealing with it quietly, Britton decided to go public, resulting in one of the most hilarious legal letters ever.
Britton revealed on Facebook that he received the letter from Starbucks after three people checked in on the app using… that name for the drink.
The entire letter is just too amazing to describe, so here it is in full:
Dear Ms Owen Kramer
cc Mr Bucks

I represent Exit 6 Pub and Brewery LLC d/b/a "Exit 6". I am writing in response to your letter dated 12/9/13 in regards to the "Frappuccino" (at risk of further lawsuits, heretofore known as "The F Word") beer listed on Untapped. As you probably don't know, Exit 6 is the proud owner of no trademarks including our own name much less than the name "F Word" and nothing about Exit 6 is incontestable.

Exit 6 has proudly sold at least 38 drinks in Cottleville MO and has a strong presence in St Charles county, a suburb 40 miles outside the St Louis metropolis. It has recently come to Exit 6 Pub and Brewerys attention that there were 3 check ins to the beer with a very similar name to the "F Word". Unfortunately it was only similar to the F Word because we meant to call it the same thing. Lucky for us, we're poor spelers.

I would like for both Ms Owen Kramer and Mr Bucks to rest assured we meant no deception, confusion, or mistaking in the naming of the beer F Word. We never thought that our beer drinking customers would have thought that the alcoholic beverage coming out of the tap would have actually been coffee from one of the many, many, many stores located a few blocks away. I guess that with there being a Starbucks on every corner of every block in every city that some people may think they could get a Starbucks at a local bar. So that was our mistake.

We want to be sure that Ms Owen Kramer and Mr Bucks know that Exit 6 and the 3 customers that checked into the beer known as the F Word feel just awful about calling a beer the F Word. We are bad people. We feel shame. But know this, Exit 6 has ceased and desisted all use of the F Word and there will be absolutely no further use of the F Word in the naming of any further Exit 6 beers. We tried to contact the website Untappd to tell them to remove the beer called F Word but it looks like you guys beat us to it. Those lawyer fees go a long way. We also promise to stop production of our "Starbuck-McDonalds-Coca Cola-Marlboro Honey Lager" for fear of further repercussions.

Furthermore, in an effort to remain in good standing with Starbucks and Mr Bucks in general, please find enclosed a check for the full amount of profit gained from the sale of those 3 beers. Please apply the enclosed $6.00 towards the legal fees Ms Owen Kramer received for her efforts in nabbing Exit 6 in our dastardly F Word naming practices. We realize Mr Bucks probably paid her more than Exit 6 made last year. We just want to help a business like Starbucks. Us small business owners need to stick together.

I just want to apologize again for any damage Exit 6 did to Starbucks. I certainly didn't intend to cause any harm to the Starbucks name.

Apologizing Again
Jeff Britton
Owner
Exit 6 Pub and Brewery

PS –– Can we name the beer "Phrappaccino"?

PPS –– Is the name "Honigman Hefeweissen" ok?

PPPS –– Ms Owen Kramer, do you know Mark A? You guys fixed a ticket for him around 2005. He was doing a 103 in a 70.

PPPPS –– Go Blues!
And the best part? He actually sent the six-dollar check.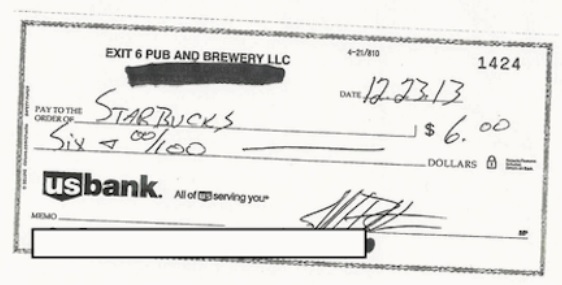 [h/t NPR]
[photos via Shutterstock, Jeff Britton]
— —
Follow Josh Feldman on Twitter: @feldmaniac
Have a tip we should know? tips@mediaite.com
Josh Feldman - Senior Editor