'The Imperial Presidency': Cantor Attacks Obama Over 'Troubling' Rule Of Law Abuse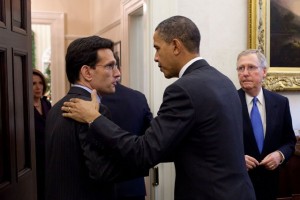 House Majority Leader Eric Cantor is hitting President Obama with a powerful indictment against his administration's policies in the final weeks of the presidential campaign. Cantor released a report on his official website titled "The Imperial Presidency," in which he accuses the Obama administration of gross negligence in upholding the rule of law. Cantor tries to make a bipartisan case for why Obama is attempting to set legal precedents that even Democrats should find troubling, raising the alarm bells over the administration's "continuous disregard of legislative authority and the Constitutionally-required separation of powers."
RELATED: 'Hit The Road Barack': Newsweek's Niall Ferguson Details Many Reasons 'Why We Need A New President'
Cantor goes after Obama for "unprecedented" action on recess appointments, calling the president's actions "unconstitutional." George W. Bush was similarly criticized for recess appointments during his presidency, but some have argued that Obama went one step beyond what Bush did by "invok[ing] his constitutional right to recess nominees" and essentially dismissing pro forma Senate sessions invoked to prevent recess appointments "illegitimate." Cantor uses this and other examples to accuse the president of circumventing Congress in order to get his agenda through.
On the other side of the coin, Cantor also goes after the administration for not "ensuring that the laws – all laws – are faithfully executed." He points to the contraception mandate in the health care law as an attack on the rights of religious employers, the failure of the president to defend the Defense of Marriage Act, and taking "deferred action" on immigration policy.
Cantor ends the report with a plea for others to understand the implications of the precedent established by the Obama administration.
The President has set a precedent that even his supporters should find troubling. After all, what would now prevent a subsequent President, with opposite policy predilections, from bypassing the checks on his own authority and enacting his own policies in this same manner?…

Congressional authority must not be disregarded to suit political interests, create unpopular regulations and to avoid the hard work of bipartisan negotiation that has been a hallmark of our Republic since its inception.
You can read the full report here.
h/t The Hill
[Image via]
—–
Follow Josh Feldman on Twitter: @feldmaniac
Have a tip we should know? tips@mediaite.com
Josh Feldman - Senior Editor