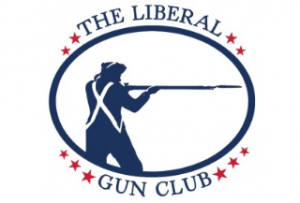 What would happen if you took the NRA and mixed it in with a coffee house? The answer is apparently the Liberal Gun Club, an organization set up to be home to liberals who agree with the right on this one issue and not much else. The group got some national attention today with a profile in The San Francisco Chronicle, a profile that quotes one of their members describing them as "the NPR of gun clubs."
The first thing you need to know about the Liberal Gun Club is that aside from general agreement on expansive Second Amendment rights, they have nothing in common with and don't wish to be associated with the NRA. As one member put it, "We make ourselves a special place where we don't have to hear about the 'Kenyan Muslim socialist' in the White House."
Take a look at this excerpt of a press release by the Liberal Gun Club just to get an idea of where they're coming from.
Members of the Northern California Chapter of the Liberal Gun Club strongly support Governor Brown's veto of SB 374 (Steinberg), which would have made millions of guns currently owned by Californians illegal. As the Governor correctly stated in his veto message, "these rifles are commonly used for hunting, firearms training, and marksmanship practice, as well as some historical and collectible firearms…"

"Political placebos like SB 374 do nothing to enhance public safety, but have a real possibility of jeopardizing seats held by Democrats in swing districts," said Marlene Hoeber, chapter president.
One member of the group even went so far as to tell the Chronicle that some gun control activists have "the same kind of faith-driven disconnect" as anti-abortion activists with their fight for "an incremental chipping away of rights" cloaked in "the argument that 'we're just trying to protect the children."
Once again, this is the liberal gun club.
[h/t The Blaze]
[photo via screengrab]
— —
Follow Josh Feldman on Twitter: @feldmaniac
Have a tip we should know? tips@mediaite.com
Josh Feldman - Senior Editor