2012 Horror: Charlie Sheen 'Winning' Against Sarah Palin Among Independents In Presidential Poll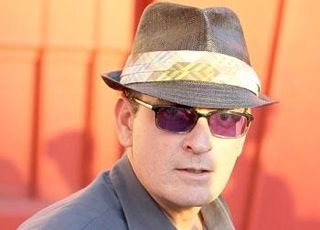 Leave it to Daily Kos to dig out the most disheartening poll for Sarah Palin's presidential ambitions possible: according to data compiled by the group Public Policy Polling, Palin doesn't even stand a chance against known trainwrecks with no aspirations and even less qualifications to live in the White House. Yes, Sarah Palin is now trailing Charlie Sheen in certain presidential polls.
This can't possibly be a morale boost for Palin HQ: given a choice between the former Alaska governor and the former Two and a Half Men protagonist, 41% of independents would rather see a president with tiger blood and Adonis DNA than have the Palin clan make the trek to D.C. from Wasilla, while only 36% would rather see Sarah Palin in office. Democrats, meanwhile, would support Sheen over Palin by a 44-24 margin. Her overwhelming victory among Republicans, however, has Palin beating Sheen overall by 49% to 29% overall.
When Charlie Sheen first went on his "funemployment" media blitz, his comments on Thomas Jefferson suggested an interest in history. May this poll also shed light on a potential future for Sheen in politics? Of course not– the results have no effect on anything remotely resembling the reality of the 2012 elections (we hope– claiming otherwise would require an acknowledgment of the possibility of Charlie Sheen actually running for office). Not to mention that Sheen is, hilariously, one of the least liked people in America:
Sheen is one of the most unpopular figures we've ever polled on. 10% of Americans rate him favorably to 67% with a negative opinion of him. The only people we've ever found worse numbers for are Rod Blagojevich in Illinois (an 8/83 favorability spread), Jesse Jackson Jr. in Illinois (a 10/73 favorability), and Levi Johnston in Alaska (a 6/72 favorability). Sheen's -57 spread ties what we found for John Edwards in North Carolina the last time we polled him (15/72).
Yes, the only people more hated than Sheen are a bunch of slimy politicians and professional person-who-exists Levi Johnston. But, hey, you can't count out a winner, right?
Have a tip we should know? tips@mediaite.com