Craig Stephens Hicks turned himself into authorities Tuesday night and was arrested for the shooting deaths of three Muslim students around the University of North Carolina campus in Chapel Hill.
The victims were identified as 23-year-old UNC dental student Deah Shaddy Barakat; his wife of just over one month, 21-year-old Yusor Abu-Salha, 21; and her sister, 19-year-old Razan Abu-Salha. According to police, they were pronounced dead at the scene.
Raleigh reporter Derick Waller posted a video of what he said was one of the victim's father pleading for information from police:
The 46-year-old Hicks is being held in the Durham courthouse. Officials did not speculate on his motive, but his Facebook page was loaded with atheist postings critiquing both Christianity and Islam, often in meme form. Both his profile and pinned photo referenced atheism and anti-theism: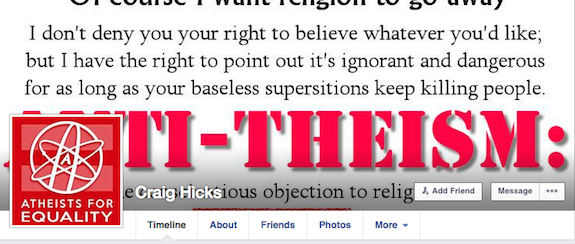 He also recently posted a picture of his firearm:
Hicks also had a smattering of the usual internet posts, including a cute dog and a photo of himself at Disneyworld.
Iconic atheist Richard Dawkins condemned the shootings on Twitter Wednesday morning:
How could any decent person NOT condemn the vile murder of three young US Muslims in Chapel Hill?
http://t.co/pdtwnKqYG3

— Richard Dawkins (@RichardDawkins) February 11, 2015
Bakarat's posts, meanwhile, struck an entirely different key:
It's so freaking sad to hear people saying we should "kill Jews" or "Kill Palestinians". As if that's going to solve anything SMH

— Deah Barakat (@arabprodigy30) January 28, 2015
And his final Facebook post described providing dental supplies to the neighborhood homeless: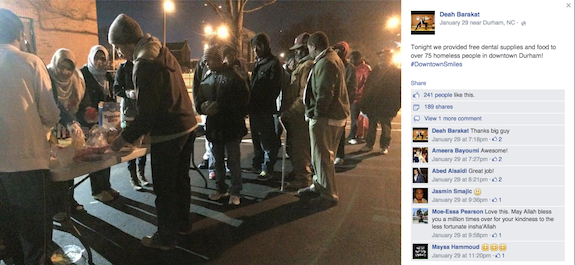 [h/t Independent]
[Image via screengrab]
——
>> Follow Evan McMurry (@evanmcmurry) on Twitter
Have a tip we should know? tips@mediaite.com