4 Firefighters Shot, 2 Killed While Battling Flames In Upstate New York [UPDATED]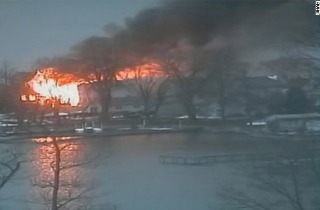 CNN reports this morning that two firefighters were shot and killed when they arrived to battle flames at a house in upstate New York. Another two were shot and injured.
Authorities believe someone began shooting at the firefighters shortly after their arrival on the scene in Webster, New York. As soon as they exited their vehicles, the shots began.
CNN notes that the gunfire prevented firefighters from extinguishing the flames for hours. Police SWAT teams evacuated homes in the area, as well.
Webster resident Michael Damico said, "The whole strip's been evacuated. They're evacuating all of the houses and going through them."
Firefighters arrived at the home at 6 AM and by 9 AM, the fire had taken over three houses and a vehicle, according to Rob Boutillier, the local fire marshal.
Boutillier says one firefighter escaped from the scene unaided and was then transported to an area hospital by an ambulance from another location. He was determined to be in "satisfactory condition." Another firefighter was wounded and unconscious when he was removed from the area.
Boutillier told reporters,
"Our main concern right now is to have law enforcement evacuate the people in harm's way (and) make the scene safe for the fire department. And then the fire department will go in and do its job."
MSNBC reports that there is currently no active shooter.
The story is still developing…
Update: Officials now believe the firefighters were victims of a "trap" set specifically to lure them to the scene. The murdered firefighters were identified as Lt. Mike Chiapperini and Tomasz Kaczowka. Theodore Scardino and Joseph Hofsetter were injured.
Update: The shooter has been identified as 62-year-old convicted killer William Spengler. Spengler had a lengthy criminal history and was charged with murdering his grandmother in the 1980s. He was found dead at the scene with a self-inflicted gun shot wound.
—
>> Follow Anjali Sareen (@AnjaliSareen) On Twitter
Have a tip we should know? tips@mediaite.com