52 Hours and Counting: Kellyanne Conway Takes Extended Social Media Break Amid Leaked Tape (UPDATE)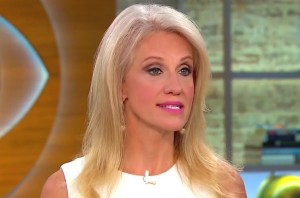 It would be hard to find anyone — conservative or not — who would argue that Donald Trump's campaign manager Kellyanne Conway hasn't been a huge boost to the struggling election effort.
Since replacing embattled former bigwig Paul Manafort, Conway has seemed to be the only person capable of getting through to the candidate himself, and her TV chops are on full display every time she expertly handles tough questions from the press about her boss's latest antics. She has gone into the lion's den on more than one occasion, sitting for The View, Rachel Maddow, and returning to her old stomping grounds on Real Time With Bill Maher, one of Trump's loudest critics in the late night left.
Conway's insane work load was even the subject of a SNL digital short last night, with Kate McKinnon playing the harried campaign pro who can never, ever get a day to herself.
But now, it looks like she's getting just that.
In addition to being replaced on some of the weekend shows, Conway has stayed off of Twitter since Friday morning.
Her last Tweet was used to target Senator Tim Kaine's poor debate performance and his history of changing his opinion on the Trans-Pacific Partnership.
Poor debate performance is not Tim Kaine's only talent: there's flip-flopping. (see, also, TPP, Hyde Amendment) https://t.co/tJaxlg58ro

— Kellyanne Conway (@KellyannePolls) October 7, 2016
But ever since The Washington Post leak on Friday that revealed that Donald Trump is a, uh, avid fan of grabbing Tic Tacs, Conway has reduced her presence to radio silence.
As of this moment, it has been 52 hours and 22 minutes since we've last heard from Conway. We will update this space as anything changes on that front ahead of the second presidential debate tonight in St. Louis.
UPDATED: 12:44 p.m. EST: Conway sent out the following update with a grim photo from on board the Trump Plane, noting that the nominee was speaking with his Veep choice Mike Pence in a conversation that qualifies as the number 1 choice to this weekend's "To Be a Fly on the Wall" awards.
@realDonaldTrump on phone with @mike_pence @Reince on plane en route to #StLouisdebate pic.twitter.com/T7Dbjq75Cs

— Kellyanne Conway (@KellyannePolls) October 9, 2016
UPDATED: 2:44 p.m. EST: Additional one showing "unity."
@realDonaldTrump & I earlier in motorcade en route to flight to St. Louis for debate. Photo credit: @MELANIATRUMP pic.twitter.com/xxFYh94Fkt

— Kellyanne Conway (@KellyannePolls) October 9, 2016
Reince is totally in control of the situation, you guys.
"I've made a huge mistake." pic.twitter.com/7m0lNZsrzH

— Alex Griswold (@HashtagGriswold) October 9, 2016
Total Twitter break time: 53 hours and 15 minutes.
Have a tip we should know? tips@mediaite.com