6 More Women Come Forward with Harassment Allegations Against Roger Ailes (UPDATED)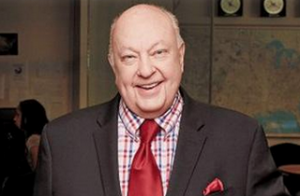 After Gretchen Carlson filed her sexual harassment lawsuit against Fox News Chairman & CEO Roger Ailes, reports said that at least 10 more women approached Carlson's lawyer with similar allegations.
And now six of those women have spoken out––two of them on the record––with additional allegations. They all spoke out to New York Magazine's Gabriel Sherman.
As he writes, the four women who declined to go on the record because of "shame and fear of retribution."
One of the women who went on the record is Marsha Callahan, a former model, who knew Ailes back in the late 60s when he produced The Mike Douglas Show. She said that Ailes called her to ask her about coming down to the show "to make sure I wore a garter belt and stockings."
This is what she claims happened:
So I go into his office and right away he says, 'Sit on the sofa and lift your skirt up.' I had to do these different poses. And then, I recall very clearly, he said he'd put me on the show but I needed to go to bed with him. I was a really shy girl, but I was a little cheeky so I said, 'Oh yeah, you and who else?' And he said, 'Only me and a few of my select friends.' I said, 'Well, if you think I have star quality and you can make money off my looks, I don't think it'd matter if I went to bed with you or not.' And he said, 'Oh, pretty girls like you are a dime a dozen.'
The other woman to go on the record was former RNC field advisor Kellie Boyle. She said that back in 1989, she had an opportunity to meet Ailes, who she really admired. Boyle recalls their initial meeting as pleasant and he invited her to dinner when they were in D.C. weeks later.
But she says things took a turn after that dinner:
[W]e get in the car and that's when he said, 'You know if you want to play with the big boys, you have to lay with the big boys.' I was so taken aback. I said, 'Gosh I didn't know that. How would that work?' I was trying to kill time because I didn't know if he was going to attack me. I was just talking until I could get out of the car. He said, 'That's the way it works,' and he started naming other women he's had. He said that's how all these men in media and politics work — everyone's got their friend. I said, 'Would I have to be friends with anybody else?' And he said, 'Well you might have to give a blowjob every once in a while.' I told him I was going to have to think about this. He said, 'No, if you don't do it now, you know that means you won't.'
The four other anonymous women spoke out with somewhat concerning allegations. One said when she was sixteen, Ailes brought her into an office, "proceeded to pull down his pants and very gingerly pull out his genitals and said, 'Kiss them.'"
Another woman said "I felt I was being used for his sexual satisfaction," one said "he grabbed me and had his hands on me and he forced me to kiss him," and another said, "I don't remember his exact words, but his message was: If you want to make it in New York City in the TV business, you're going to have to fuck me, and you're going to do that with anyone I tell you to."
Aile strongly fired back against Carlson's allegations this week, calling her lawsuit "retaliatory" over Fox's decision not to renew her contract. His attorneys are claiming breach of contract and called Carlson's lawsuit a "shameless publicity campaign."
UPDATE –– 3:01 pm EDT: Ailes' attorneys have responded in a statement saying this is just Carlson "desperately" trying to try her case in the court of public opinion.
[image via screengrab]
— —
Follow Josh Feldman on Twitter: @feldmaniac
Have a tip we should know? tips@mediaite.com
Josh Feldman - Senior Editor