The upcoming cover of Time magazine features a young Mitt Romney with his mother, Lenore Romney. "Raising Romney," the headline reads, for a feature about his mother's 1970 Senate run. Summed up on the cover, the story's premise: "When Mitt was 23, his mother ran for Senate. How that race shaped his life."
Time adds: "This was a Mitt who travelled every one of Michigan's 83 counties in a blue truck with a Lenore logo, a Mitt who dodged a pie to the face on his mother's behalf at a town festival, and a Mitt who said he'd want to be independent financially before he'd consider a political career. And above all, this was a Mitt whose learned caution is shaping the Republican party in 2012."
A glimpse at the story (which will be published tomorrow), via Time:
No presidential nominee until now has grown up with two parents who ran for high office or so much early exposure to the craft. Their public ruin seared him and schooled him. The lessons he drew have shaped his ambitions, his calculations of risk and his strategy for achieving what hismother and father could not. Bluntly put, Mitt learned from each of his parents how to lose an election. He found much to emulate as well, but longtime associates and family members say it became his prime concern to avoid their mistakes. As he constructed a political persona, they say, his father's career naturally loomed large—but ultimately his choices owed more to Lenore than to George.
The issue also features a lengthy interview with Romney about the economy and Bain Capital. In it, he defends his private sector experience, while criticizing Obama, saying "[Obama] just doesn't have a clue" what to do when it comes to the economy.
Also among the excerpts of the interview released today, Romney was asked about how much he would lower the unemployment rate in his first year. While he said he couldn't say for the first year, Romney said he'd lower it to 6 percent, or a little lower, in his first term.
And, of course, here's the cover: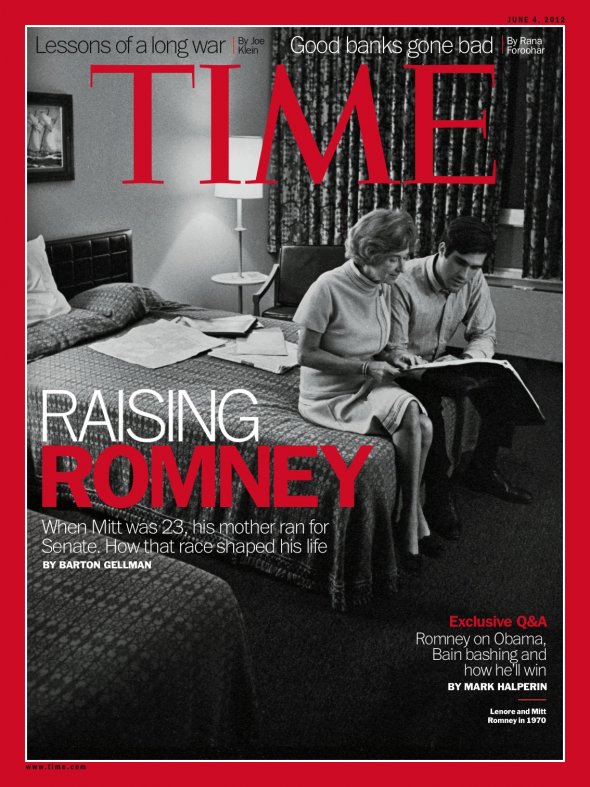 Have a tip we should know? tips@mediaite.com