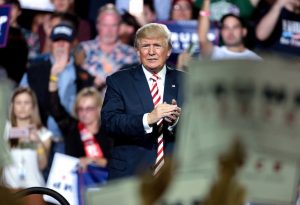 Lately, we've been talking so much about the Inauguration of Donald Trump. There have been so many questions. Will the Rockettes perform? (Only if they want to!) Will Rebecca Ferguson, Charlotte Church, Elton John, Paul Anka, KISS, or Jennifer Holliday perform? (No.) Will any A-listers perform? (No, definitely not.) Is it going to be an out-of-this-world experience? (You could say that!)
The question we haven't been asking, though, might be the most important: is this the all-consuming American touchstone moment we think it is here inside the media and politics bubbles? (Nope.)
A new Pew Research Poll found that 51% of Americans don't even plan on watching the spectacle unfold.
46% said they'll watch.
75% of Republicans (or right-leaning Independents) said they'll watch. Only 30% of Democrats said they would. 84% of Democrats said they'd watch President Barack Obama's inauguration in 2008, so home team support is actually relatively low this year. Even opposing team interest was comparatively higher then, as 47% of Republicans said they'd watch Obama be sworn in.
In keeping with that, Pew's announcement of their findings mentioned this:
Interest in Trump's inaugural is lower than for Barack Obama's first inauguration in 2009, when two-thirds of Americans (67%) said they were planning to watch. It is also lower than for Bill Clinton's first inaugural in 1993, when 57% said they intended to watch. (The question was not asked when George W. Bush took office in 2001.)
So, does it really matter that Toby Keith is performing, for better or worse, after all?
[image: Gage Skidmore]
Have a tip we should know? tips@mediaite.com